William Henderson French House
Introduction
The William Henderson French House, also known as "Legend Valley Farm", is a historic home located near Athens, West Virginia, on the old Red Sulphur Turnpike. It was built about 1855, by a Richmond architect, and is a three story, frame dwelling with an ell with Greek Revival overtones. It sits on a sandstone foundation and features porches with small, rounded columnns and railings of various designs. It is occupied to this day, having been restored by the late J.G. Foster and his wife, Sylvia.
Images
The historical marker of William Henderson French House located in Athens, WV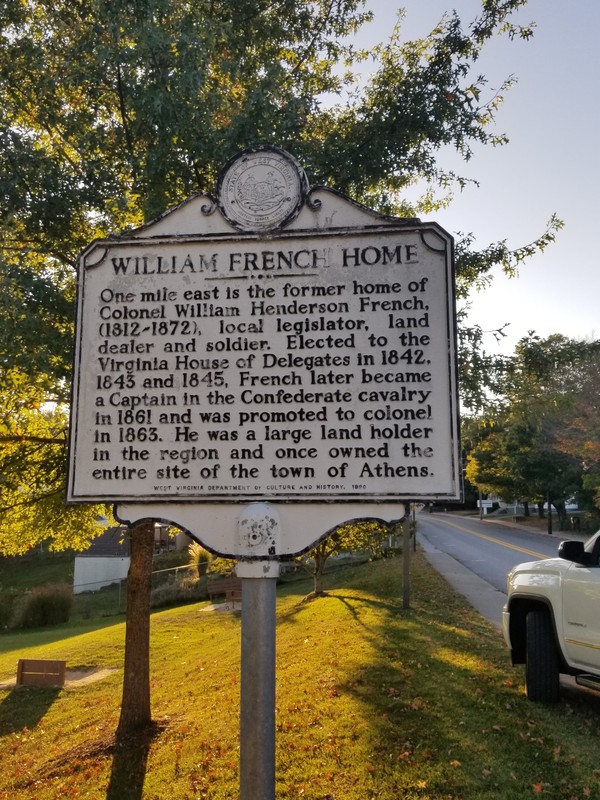 An actual picture of the house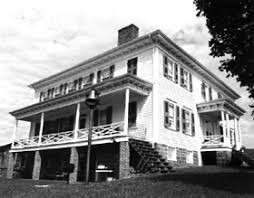 Backstory and Context
The house was home to William Henderson French and his wife, Sarah Steele French. William French was born in Giles County, Virginia in 1812. He was the son of David and Polly French. He became a landowner of a large amount of land in Mercer County, in what was then Virginia, now West Virginia. He once owned all of the land which is now Athens, West Virginia. Mr. French donated the land for the Concord United Methodist Church to William Holroyd, the church's first pastor. 
Mr. French was very active in local politics at the time. He held the title of Sheriff of Mercer County, Virginia, was a member of the Virginia State House of Delegates, and was also a Virginia State Senator. 
When the Civil War began, Mr. French became a Captain of Company A, 17th Virginia Cavalry Regiment from 1861 through 1863. From 1863 through 1865, he was a Colonel of the 17th Virginia Cavalry Regiment. Following the end of the Civil War, Colonel French returned home to Mercer County, West Virginia, and returned to civilian life as a farmer.
Colonel French died in 1872 and was buried on land set aside behind his home.
Sources
Mercer County Memories: The French Famil. 01/08/2014. http://www.wvculture.org/shpo/nr/pdf/mercer/76001940.pdf.  
Col. william Henderson French House. https://en.wikipedia.org/wiki/Col._William_Henderson_French_House.
Additional Information