Central National Bank (former), 149 East Third Street
Introduction
Central National Bank received its charter July 1, 1890, and opened for business on October 14. Founders were Dr. Amos H. Caffee [druggist], President; J. P. Newell, Sr., Vice-President; J. E. Lang, cashier. In 1906, the bank put a local limestone stone front on its 1880s brick building and extended the stone around the Grant Street side of the building as it appears today. The interior was remodeled at this time, too. On December 11, 1933, the Carthage Evening Press reported that a CWS (Civil Works Service) project would employ 52 women "on the Carthage relief roles (1)." The women were to make "comforts [bedding] (2)." The factory was located in the Central Bank building at the northeast corner of the square. The paper refers to the building as the "former" bank building and reported that it had been housing Red Cross supplies. This building is within the National Register of Historic Places Carthage Courthouse Square Historic District (see link below). Introduction text written by Dr. Megan Bever, Powers Museum Board Member and Missouri Southern State University Professor, summer 2017. .
Images
Postcard image of north east corner of square showing Central National Bank building as well as its neighbors to the west (Deutsch Clothing and Whitsett's Dry Goods) and its neighbor to the east (Harrington Hotel), circa 1906-10.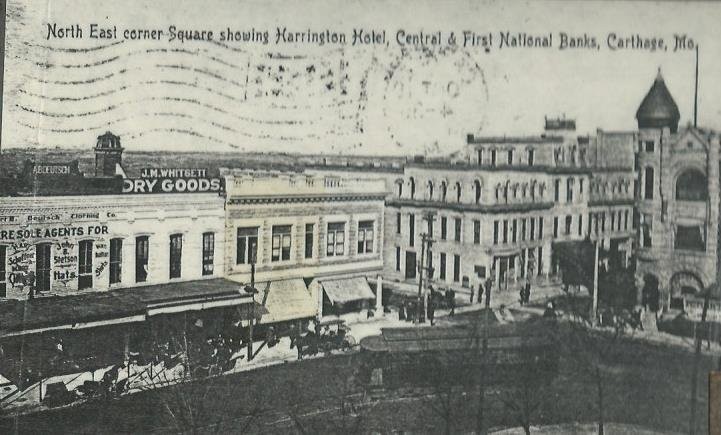 1891 Advertisement for Central National Bank.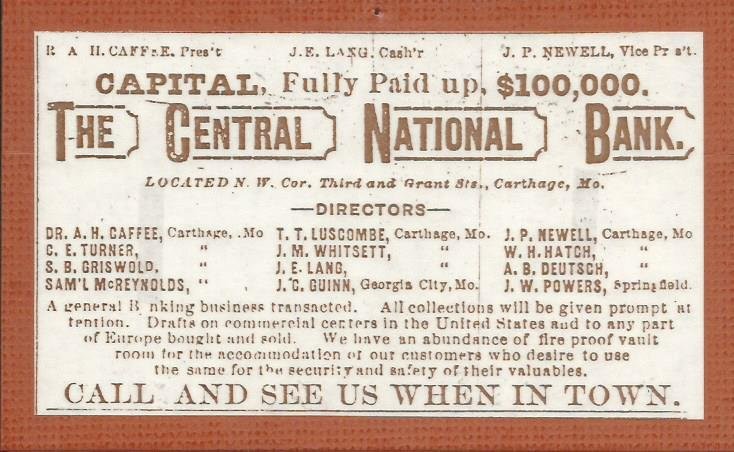 Central National Bank bag displayed during the 175th Anniversary of Carthage Exhibit at Powers Museum in 2017.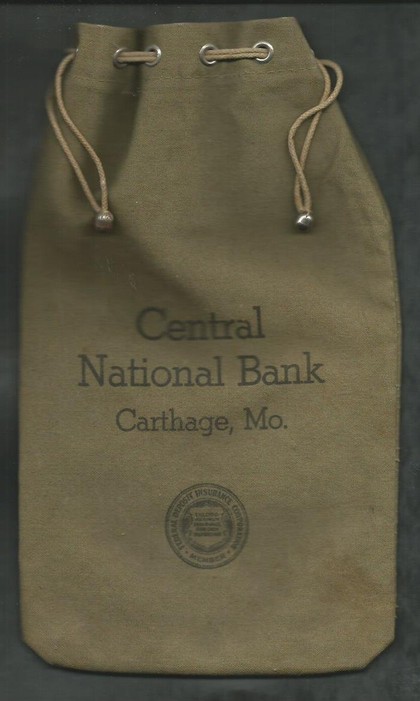 Oak frame and composer prints created by Dumar's Music shop displayed in the 175th Anniversary of Carthage. Possibly framed by James Scott since back of frame has Dumar's store label.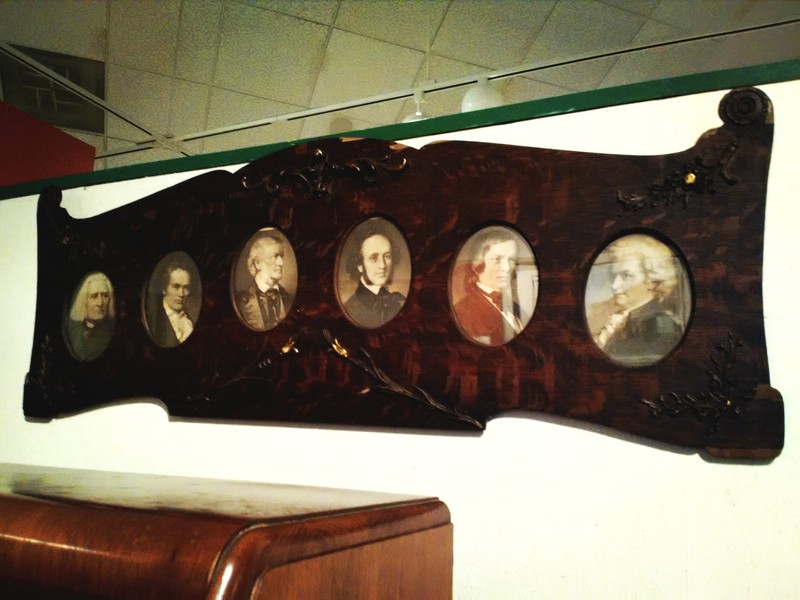 James Scott marker in sidewalk in front of building at this location.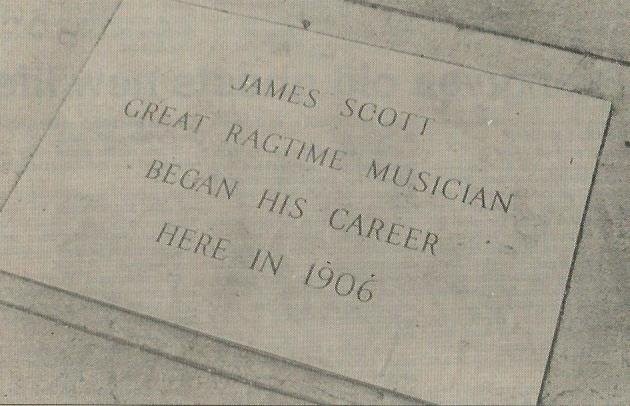 Digitization on CLIO is part of Powers Museum's "Digital Carthage" project in honor of Carthage's 175th Anniversary Celebration (March 28, 2017 through March 27, 2018).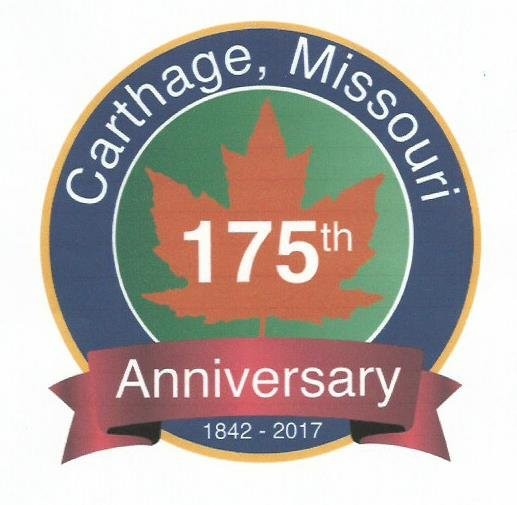 Funding for the Walking in the Wards tour was made possible by a grant from the Missouri Humanities Council and the National Endowment for the Humanities, Spring 2017.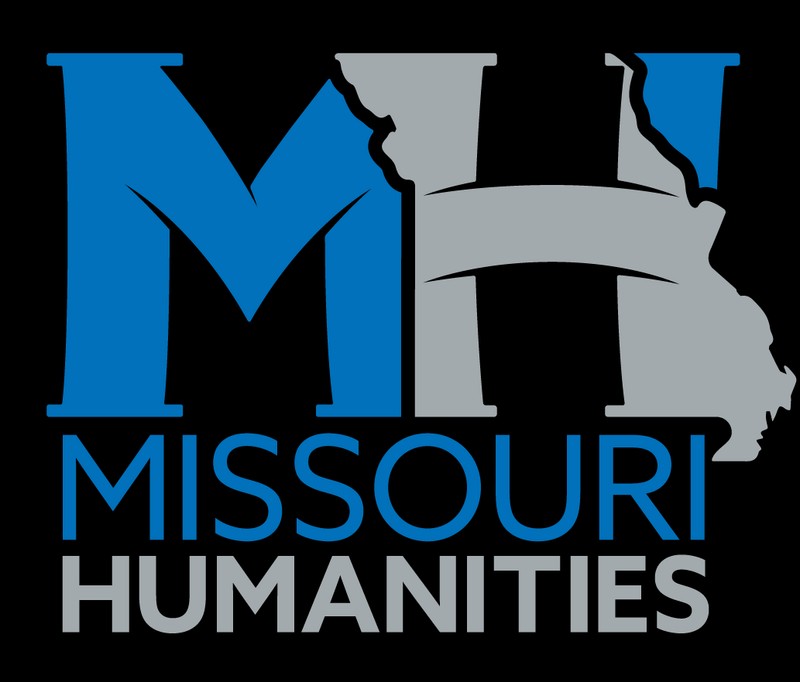 Backstory and Context
Central National Bank operated on the first floor storefront of this building while the second floor was occupied with professional offices such as the McReynolds law office and the medical office of Dr. Everett Powers. In the latter half of the 20th century, the former bank area was used as the business office of Carthage Water and Electric Plant.
Like other buildings on the north side of the square, this structure has more than one storefront. The left one was occupied by various stores including, Foster's Grocery (1884), H. M. Cornell's Agricultural Implement store (1888) and Boston Clothing House (1895).
But for parts of three decades at the start of the 20th century, this storefront was devoted to music with Dumars and Gammon Music and L. H. Beck Music Company. It was Charles Dumars' store where James Scott, ragtime music composer and performer, was discovered. Scott would demonstrate any sheet music sold in the store and eventually Dumars heard some of Scott's original compositions and began to publish them. Scott also framed pictures while working for Dumars. A 1975 limestone marker in the sidewalk (in front of the storefront to the left in image) jonors Scott's achievements before moving on to Kansas City. 
Sources
Hansford, Michele. Images of America: Carthage Missouri. Charleston SC: Arcadia Publishing, 2000.
"Jobs for 52 women here." Carthage Evening Press, December 11,1933, no page (1 & 2).
Powers Museum Vertical Files: Central National Bank, Dumars Music.
Image Sources
NE Corner of square image former Powers Museum exhibit image.

1891 Bank advertisement former Powers Museum exhibit illustration.

Bank bag from Powers Museum Collection.

Framed prints from Powers Museum Collection.

Scott marker photograph by Michele Hansford.

Additional Information