Lyman T. Johnson Traditional Middle School
Introduction
This school is named in honor of Lyman T. Johnson, an educator at the historically-Black Louisville Central High School who later successfully sued the University of Kentucky for their policy of excluding Black students. Johnson won his case in 1949 and became the first African-American student at the University. Johnson supported many civil rights initiatives throughout the city and state and continued teaching at Central High Shcool until 1966 and then became an administrator. This school was renamed in his honor in 1980.
Images
1975 - Lyman Johnson walking past busing opponents. Courier- Journal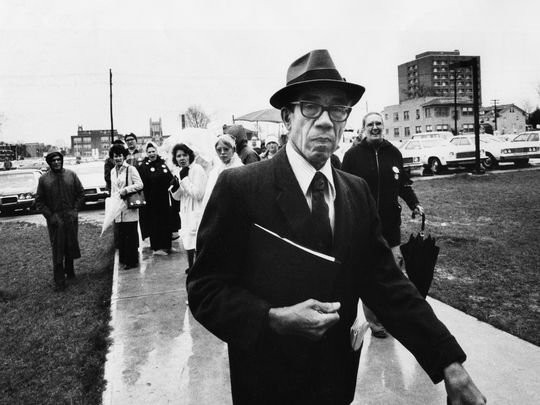 Lyman Johnson in later years.

Johnson Traditional Middle School in Louisville, KY. Named after Lyman Johnson.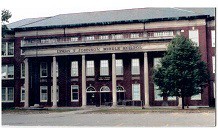 Lyman Johnson, age 43, was the first Black student to be admitted to the University of Kentucky in 1949.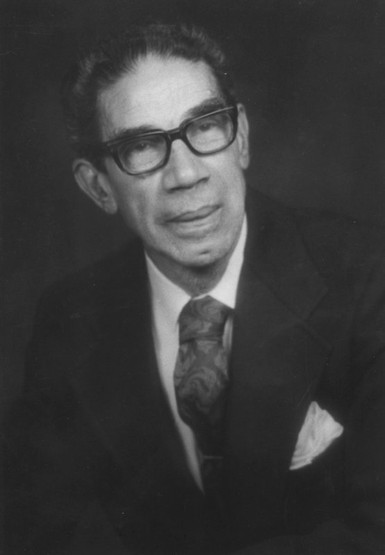 Lyman Johnson and Kentucky State University President R.B. Atwood leave federal court after the court ruled in favor of Johnson's admission to the University of Kentucky, March 1949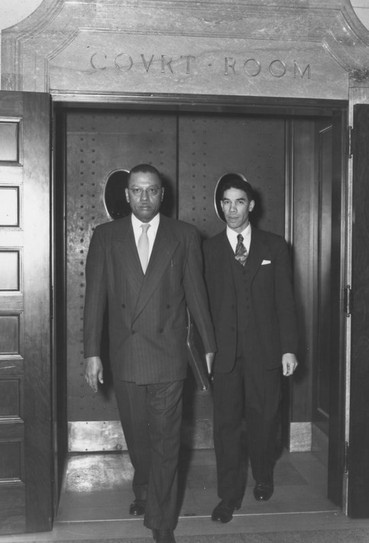 Backstory and Context
Lyman Johnson was born in Columbia, Tennessee, the eighth of nine children and the grandson of former slaves. He earned an undergraduate degree in Greek from Virginia Union University in 1930 and he received a Master's degree in history from the University of Michigan in 1931. His teaching career was interrupted by WWII when Johnson served in the United States Navy. His service in the Navy was indicative of a segregated military. Ever the educator, Johnson turned a dead-end naval appointment into an opportunity to help his fellow Black servicemen. In an Interview given to the Southern Oral History program in 1990, Johnson recounted:
"Toward the end of the war, long about the middle of '44, or maybe the beginning of '44, they made twelve ensigns, and they announced then to all the rest of us that, "We're making twelve ensigns. We won't make any more, and they won't be promoted"' In other words, don't aspire for anything. So what they did in my group, they had 47 of us so-called educated Negroes stationed up there at Great Lakes. They didn't know what to do with us. . . . I think there were about twenty of us who decided that the best service we could render would be to run a school for illiterates, and many a time, 5,000 Black sailors would be dumped on Great lakes from down Mississippi, take them in little batches for seven weeks. We said, "Give them to us for seven weeks, and we'll have them passing what the public school called third grade tests."1
After the war, Lyman returned to Louisville to teach. He taught mathematics, economics, and history at Central High School for sixteen years. During that time, he was a local leader in the fight for equal pay for Black and white teachers in addition to leading movements to integrate neighborhoods, swimming pools, schools and restaurants.
As a college educated man, Johnson clearly saw the advantages of higher education, however, at that time in Kentucky Black students were not allowed to attend the state colleges with white students. Seeing the need for reform, Johnson decided to apply for graduate school at the University of Kentucky. He was denied entrance so in 1948, Johnson filed a federal lawsuit against the University of Kentucky challenging the "Day Law" which was a state law that prohibited Blacks and whites from attending the same schools. The "Day Law" had been passed in 1904 by Governor J.C.W. Beckham. Johnson's challenge was successful and he was allowed to begin graduate studies in 1949. However, due to family responsibilities, Johnson had to leave the University and returned to teaching at Central High School and remained there until 1966. Additionally, Johnson spent five years as an assistant principal at two junior high schools and after retiring from JCPS he spent three years as an administrator in the Catholic Schools. Johnson's career as an educator in the Louisville spanned forty years. In addition, he served as a member of the Jefferson County Board of Education from 1978-1982 and as the president of the Louisville NAACP.
Thirty years after he won the right to attend graduate school at the University of Kentucky and opened the door for many students of color to attend graduate, professional and finally undergraduate studies, the University of Kentucky, in 1979, awarded Lyman Johnson an honorary degree. As a tribute to the legacy of Lyman Johnson, the University of Kentucky Graduate School has a competitive fellowship program as well as a postdoctoral fellowship program in his name. In 1980, Johnson Traditional Middle School in Louisville was named the Lyman T. Johnson Middle School in his honor.
Sources
1"Interview with Lyman Johnson (Interview A-0351)." Southern Oral History Program Collection (#4007) University of North Carolina at Chapel Hill. July 12, 1990
Hall, Wade and Johnson, Lyman T., "The Rest of the Dream: The Black Odyssey of Lyman Johnson" (1988). African American Studies. 20.
Additional Information