Municipal Park,1800 Oak Street
Introduction
Planning for Municipal Park began in 1934-35 by the City of Carthage with the assistance of landscape architects Hare & Hare of Kansas City, Missouri (1). Original plans called for construction of a swimming pool, picnic pavilions, baseball fields, 9 hole golf course, tennis courts and band shell. The field rock and concrete Carl Lewton Stadium at the park was first completed as the park's amphitheater in 1937. Funding for the construction was provided by the Works Project Administration (WPA) that was part of Franklin D. Roosevelt's New Deal Program. The stadium originally held 3,000 spectators. In June 1998, the Helen S. Boylan Foundation provided new playground equipment along with improvements to the skating rink (former dance pavilion) and Kiddieland. The latter is a small children's amusement park operated by the Carthage Kiwanis Club during summer at the eastern edge of the park. A carousel has been added to Kiddieland in recent years. Over the years, the park has hosted its share of community events. In 1937, more than 30,000 people came for a two-day 4th of July celebration and park dedication presided over by former Carthage resident Thomas M. Sayman (2). During World War II, servicemen stationed at Camp Crowder, near Neosho, Missouri, used the park for much needed recreation. The park also sits along former U. S. Highway 66 (also known as Route 66) and provided its facilities for travelers of the "Mother Road."
Images
Municipal Park's tennis court, swimming pool and park pavilion (now skating rink) seen in aerial postcard (c.1936-7) from 175th Anniversary of Carthage exhibit at the Powers Museum in 2017.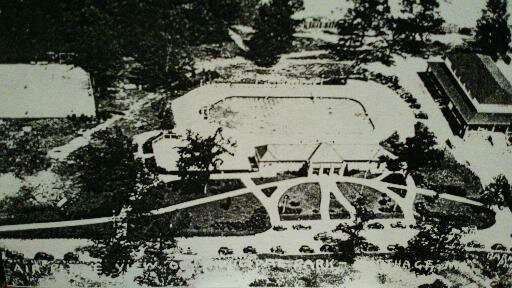 WPA-built field rock picnic shelter in Municipal Park.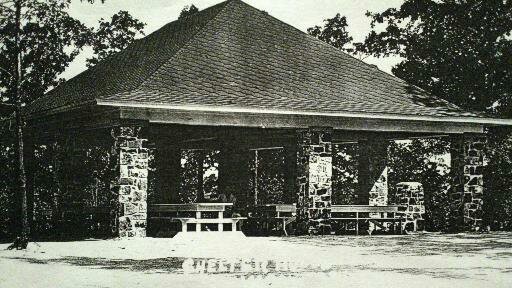 WPA-built former park pavilion (now skating rink) in background and rock seating for swimming pool in Municipal Park.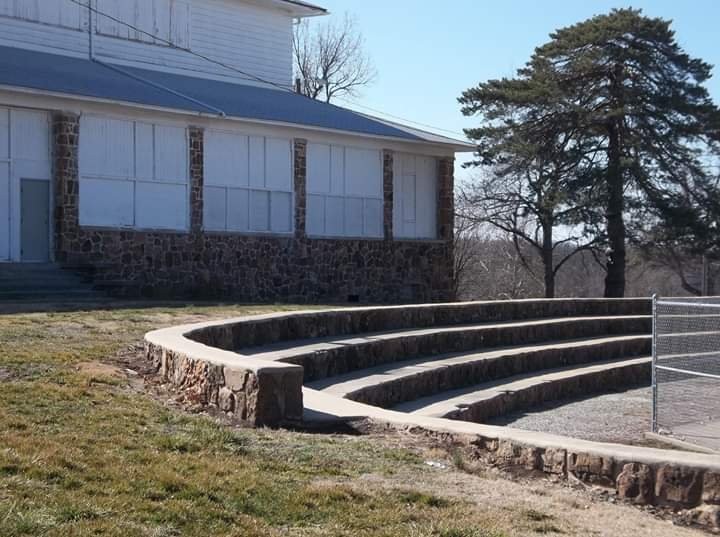 Scene above re-created as a mural on the west side of building at 140 West Third Street. Artist was John Biggs who also did murals on Burlingame and Chaffee Opera House and Pollard Building #1 (See Clio entries for both).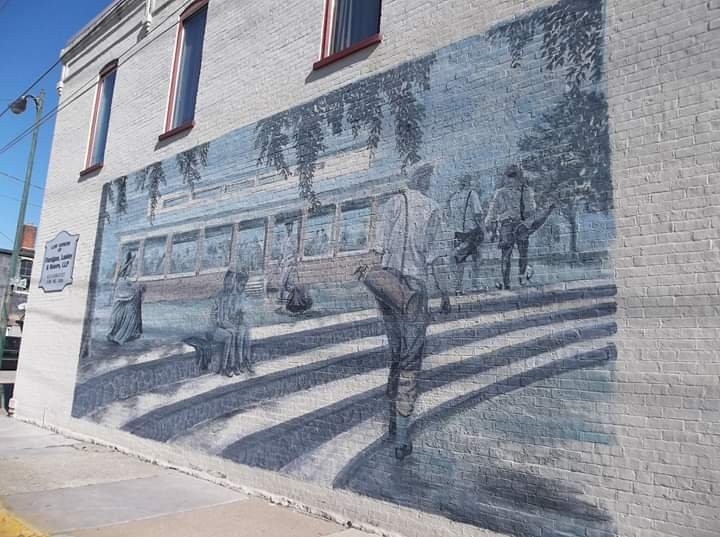 Baseball player Sam Dixon inside the WPA-built rock stadium at Municipal Park. Collection of Powers Museum.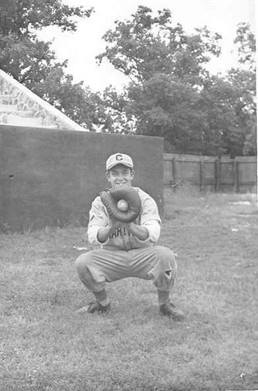 Carl Lewton Baseball Stadium (c 1997 image), originally built as an outdoor amphitheater but very quickly after completion was converted to athletic use. Senator Harry S Truman announced the funding for the project.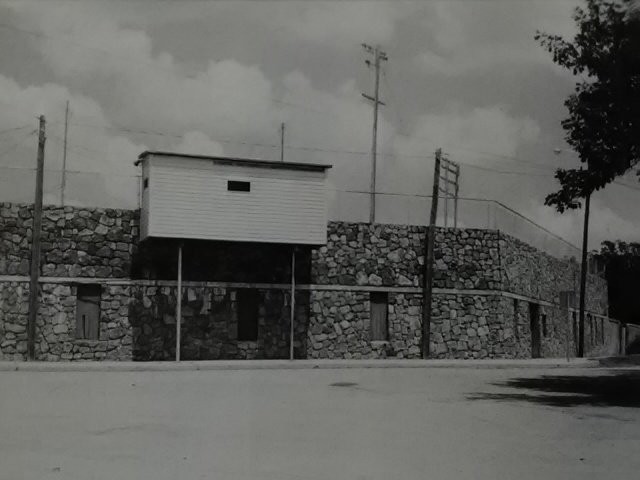 Digitization on CLIO is part of Powers Museum's "Digital Carthage" project in honor of Carthage's 175th Anniversary Celebration (March 28, 2017 through March 27, 2018).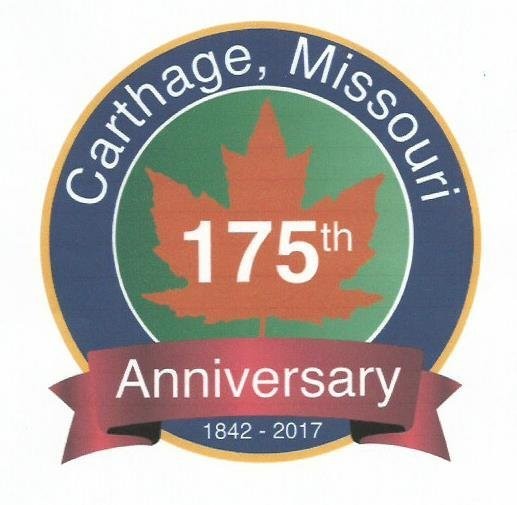 Funding for the Walking in the Wards tour was made possible by a grant from the Missouri Humanities Council and the National Endowment for the Humanities, Spring 2017.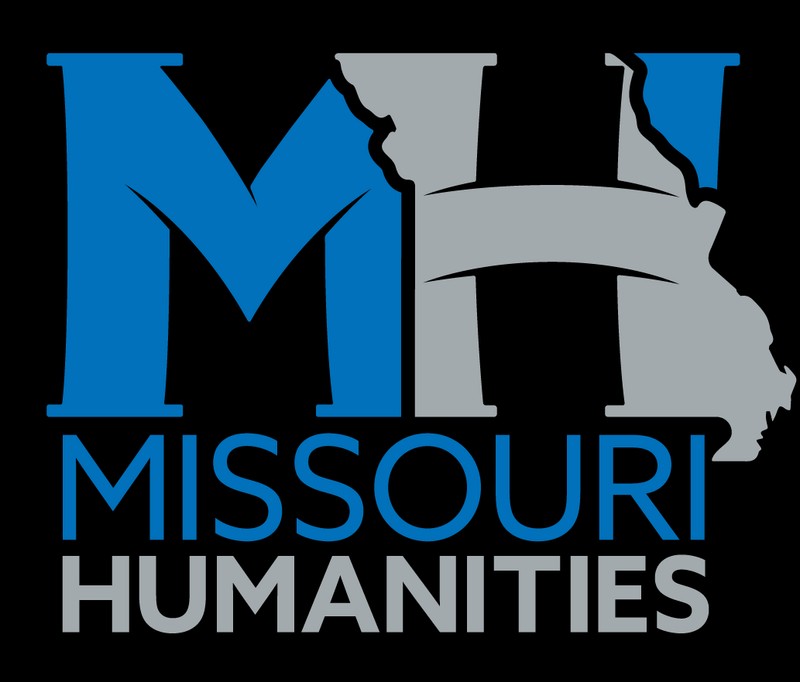 Backstory and Context
All of the original structures and park features for Municipal Park were courtesy various New Deal programs including the lesser-known National Youth Administration that conducted a training project for young boys to construct flagstone, limestone slab and concrete sidewalks along Oak Street from Baker Boulevard to the park's entrance. These sidewalks served the community until recent years when they were replaced with new concrete sidewalks. The former tennis courts have been converted to additional picnic areas with modern shelters. The Carthage limestone bathhouse at the outdoor pool, was constructed of local limestone.
The original golf course has been expanded throughout the years, just like the park itself. (By 1960, the park had grown to more than 200 acres.) In 1968, Ralph Johnson, Frank Ford Jr., Harry M. Cornell Jr., and James Smallwood purchased additional acreage to expand the golf course and Rev. Thomas Hardaway of Grace Episcopal Church was the first golfer on the expanded 18 hole course. Many of the park's facilities have benefited from numerous grants throughout the years from the previously mentioned Helen S. Boylan Foundation and from the Kent and Mary Steadley Trust.
Sources
Hansford, Michele Newton. Images of America: Carthage, Missouri. Charleston SC: Arcadia Publishing, 2000, (1) pg 91 and (2) pg 90.
"Municipal Park One of Carthage Assets." Carthage Evening Press, November 22, 1938, Payroll Edition, Section, 2, page 1.
Powers Museum Vertical Files: Municipal Park.
Utter, Wade and Hansford, Michele Newton. Images of America: Carthage, Missouri. Charleston SC: Arcadia Publishing, 2013.
Image Sources
Aerial view former Powers Museum exhibit image of historic postcard.

Picnic shelter former Powers Museum exhibit image of historic postcard.

Park pavilion photograph by Michele Hansford.

Park pavilion mural located in downtown Carthage; photograph by Michele Hansford.

Dixon photograph in collection of Powers Museum.

Stadium photograph by Michele Hansford.

Additional Information