Oregon World War II Memorial
Introduction
The Oregon World War II Memorial was dedicated on June 6, 2014, on the grounds of the state capitol grounds. The dedication ceremony marked the 70th anniversary of D-Day and commemorates the service of Oregonians in World War II. The monument features a 33-foot tall central obelisk and a granite wall that bears the names of 3,771 people who lost their lives during the war. The monument was constructed with a total of $1.2 million dollars and honors soldiers and civilians in Oregon who contributed to the war effort.
Images
The memorial was dedicated on the 70th anniversary of D-Day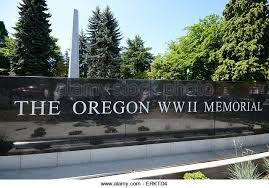 The thirty-three-foot high obelisk is surrounded by a granite wall the bears the name of soldiers who lost their lives in the war.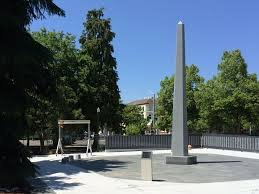 This plaque at the memorial site gives a timeline from the initiation of the the memorial project to the date of the dedication of the Oregon World War II Memorial in June 2014.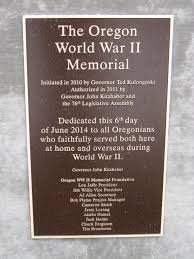 This view is a good shot of the V-shaped Black granite wall that is seen by visitors as they approach the memorial monument.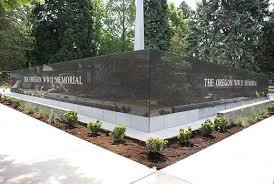 Backstory and Context
The Oregon World War II memorial is an obelisk-shaped granite memorial to Oregonians that fought in World War II. About 152,000 men and women Oregonians served during World War II. The names of each of Oregon resident who lost their lives in military service during the war are inscribed on the Black granite wall in front of the memorial.

The dedication ceremony for the monument was held on June 6, 2014, and was attended by World War II veterans. The memorial was also dedicated to the men and women who supported the war effort through their labor in the shipyards and factories as well as military support personnel such as nurses. The monument is located on the Oregon Capital grounds, in Salem, at the corner of Cottage and State Streets. It encompasses a 75' x 75' area and has two benches at the monument to sit and reflect.
Sources
Statesman Journal, June 7, 2014
Additional Information