1859 House
Introduction
Originally a tannery and currier shop, this structure later housed a popular restaurant.
Images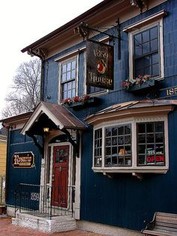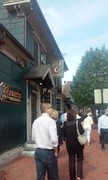 Backstory and Context
The land and most of the buildings along the south side of Hampshire Street between Broadway and Lowell Street were owned by the Methuen Company during the latter half of the 19th century. This house is said to have been built in 1859 and according to William Barnes, it was a tanner and currier shop, with a hat shop owned by Bowen and Grosvenor in the basement. It may not have belonged to the Methuen Company at that time. However, D. Nevins, who purchased the Methuen Company in 1864, is shown as the owner on the 1872 map; on later maps the Methuen Company is shown as the owner. It was rented for a mix of commercial and residential uses.
This house is similar in detail to the old Waldo/Currier Block (300 Broadway), rebuilt after the 1849 fire which destroyed many buildings in the area . A photograph of the Edwin J. Castle Drug Store in the Currier Block can be found in the Christmas Supplement of the Methuen Transcript (1898) at the Methuen Historical Society.

A Chinese laundry was located in the building from about 1900 until the Methuen Company sold the building in 1922 to the Methuen Club, a group of local business and professional men. From the 1920s to 1975, the building was used as a clubhouse with bowling alleys, billiard tables and card tables. Since the mid-70s, the building has housed one of Methuen's more popular restaurants.