The Odd Fellows Building
Introduction
The home of the Methuen-based Hope Lodge of the International Order of Odd Fellows was originally an elaborate four-story clubhouse, featuring a post office, stores, and a banquet hall.
Images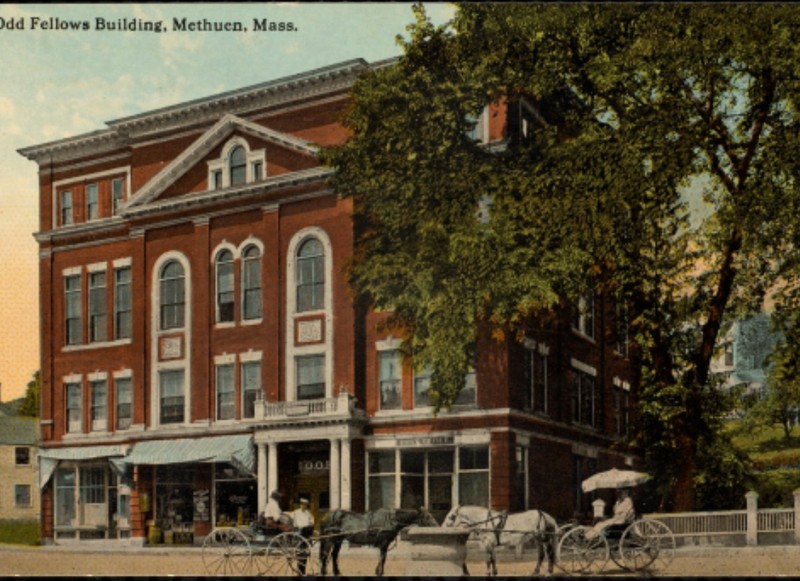 Backstory and Context
Construction of the Odd Fellows Building designed by Lawrence architect George G. Adams and dedicated in September of 1899, was the culmination of a 20 year effort by the Hope Lodge of Methuen to build a permanent home. It was built on the site of a prominent early landmark, the so-called "Old Shoe Shop." The contract for construction went to Albert E. Lang of Lawrence who began work in October of 1898 and completed the building in less than a year. The Post Office and two stores occupied the first floor. The second floor was divided into seven offices and a small lodge room. A large lodge room occupied the third floor, while a banquet hall, kitchen, and smoking room were located on the fourth floor. According to the Methuen Transcript, the ceiling of the lodge room was steel, and the finish of the interior was "elaborate."
Hope Lodge 34, I.O.O.F. was instituted in Methuen in 1844 by a group of prominent citizens including John Low and George A. Waldo. Although, initially an active chapter, the group surrendered their charter in 1855. Interest was revived in 1868 and the charter returned the following year with Daniel T. Morrison (who lived at 11 Park Street) elected as first noble grand. In 1879, meeting rooms for the Lodge were located in the James Dodge Store (271 Broadway). At the time of construction of the new Odd Fellows Building on Hampshire Street, the organization was in a strong financial position and had a membership of more than 200 individuals.
Additional Information