Old Town Hall
Introduction
Built in 1853, this building housed Methuen's town hall before its move to the Searles Building.
Images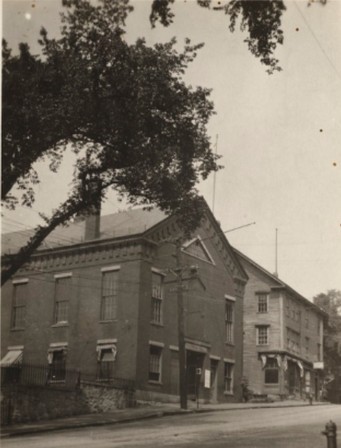 Backstory and Context
Centralization of economic activity around the Methuen Cotton Mills (47 Osgood Street) and the rise in smaller local businesses that manufactured hats and shoes caused the town center to shift to the area around Osgood Street, Hampshire Street, and Broadway. Town meetings were held in the First Church, Congregational, which moved its meeting house to 30 Pleasant Street in 1832, and by the 1850s the town had grown sufficiently to require construction of a Town Hall. Prominently situated at the corner of Broadway and Osgood Street, the Town Hall was built in 1853, on the site of Rufus Howe's Blacksmith shop. The Methuen National Bank had its offices in the first floor of the town hall from 1853 until 1911 when the bank relocated to space across the street in the former Dodge Store (271 Broadway). Before construction of the new Central Fire Station in 1899 (24 Lowell Street), the hook and ladder and hose wagon were stored in the basement of the town hall. The building functioned as the town hall until 1959 when the present municipal building was constructed on the site of the Nevins Estate on Hampshire Street. - Description courtesy of Dan Gagnon, historian.