Central Fire Station
Introduction
This building represented a major upgrade for Methuen's fire services when it was constructed in 1899.
Images
The fire house on Lowell street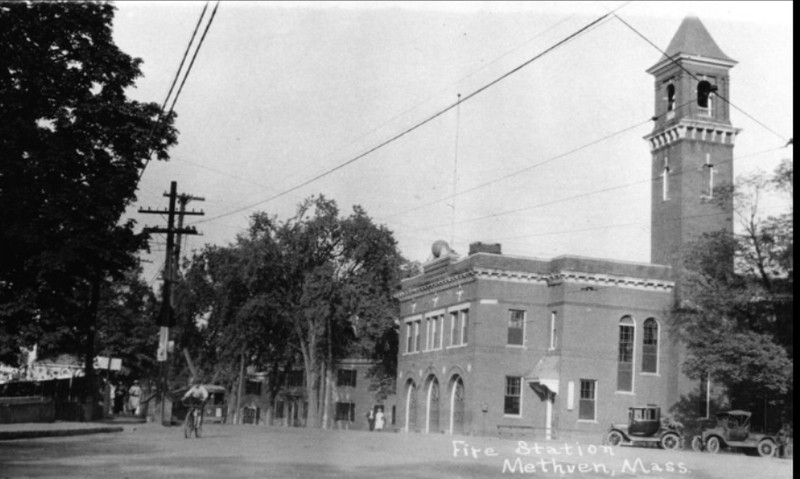 Backstory and Context
Discussion regarding the need for the town to purchase fire apparatus took place as early as 1836, but it was not until 1847 that the first hand tub was bought and the Spiggott Engine Company created. A steam engine, purchased in 1870, lead to organization of the E. A. Straw Company in 1871 and the Mystic Hose Company was organized to man a hose carriage purchased in 1878. In 1887, the town voted to purchase a hook and ladder truck, which was manned by the C. H. Tenney H. & L. Company. A system of alarm boxes came into service in 1888. Edward F. Searles donated a new hose wagon to the town in 1891 and the Mystic Hose Company was renamed the Paul Methuen Hose Company.
Fire apparatus was first kept in an engine house built around 1847 to house the hand tub "Spigot," which was located on the island on the south side of Lowell Street. That building was unable to accommodate the newer equipment purchased after 1870, so the hose wagon and hook and ladder were kept in the basement of the town house (290 Broadway). Construction of the long-needed Central Fire Station did not happen until 1899. The new station housed the steamer, hook and ladder, and hose wagon. The new building contained sewer-connected stalls for eight horses, sleeping quarters, and three brass polls. Although the building was lit by gas, the lights were operated electrically. The sounding of the alarm activated the lights and opened the stall doors so that the horses could take their places under harnesses which were suspended from the ceiling. The station was designed by Lawrence architect John Ashton.
Additional Information