Peabody Esplanade and Vanderbilt Peabody College (formerly George Peabody College for Teachers)
Introduction
Now part of Vanderbilt University, this tree-lined campus quad is home to the Peabody College of Education. Peabody was a separate college prior to the merger with Vanderbilt University in 1979. The college was established by philanthropist George Peabody who established an educational fund to both construct and rebuild teacher training institutions in the South in communities devastated by war. The fund had two purposes: to promote primary-school education and to establish a "normal school" for the training of teachers. Peabody Normal School opened in Nashville in 1875. Originally part of the University of Nashville, it was incorporated under the name George Peabody College for Teachers in 1909 and moved from downtown Nashville to its present campus in 1914. The new location was close to Vanderbilt University and eventually became part of that university in 1979, the same year in which the college was entered in the National Register of Historic Places.
Images
Exterior view of Wyatt Center at Peabody College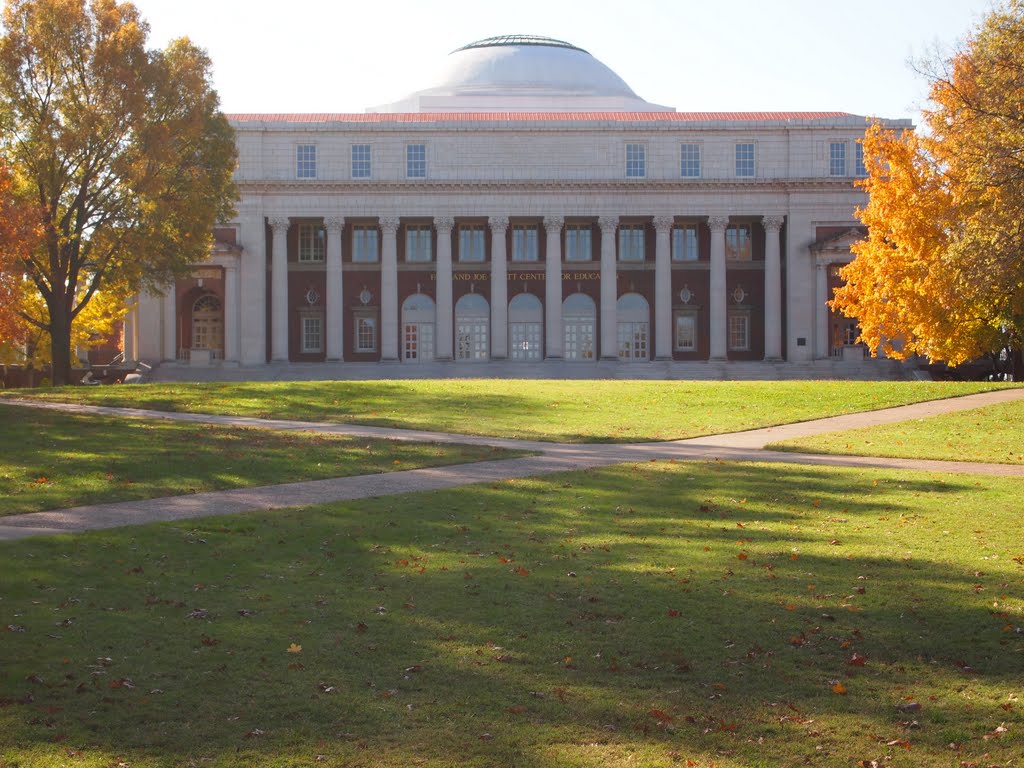 An interior view of Cohen Memorial Hall, built in 1928.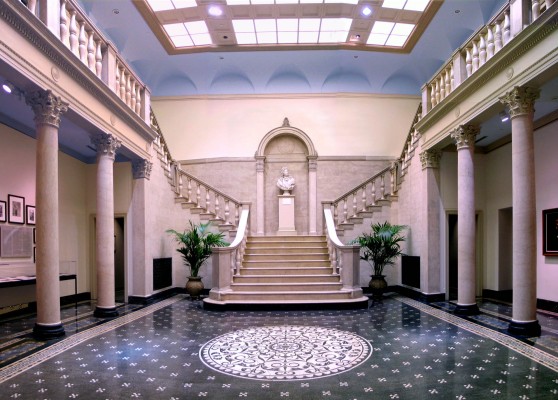 Campus of Peabody College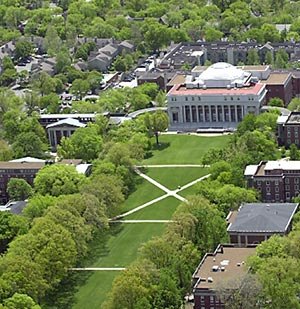 Photo of George Peabody, the philanthropist who funded the school that eventually became Peabody College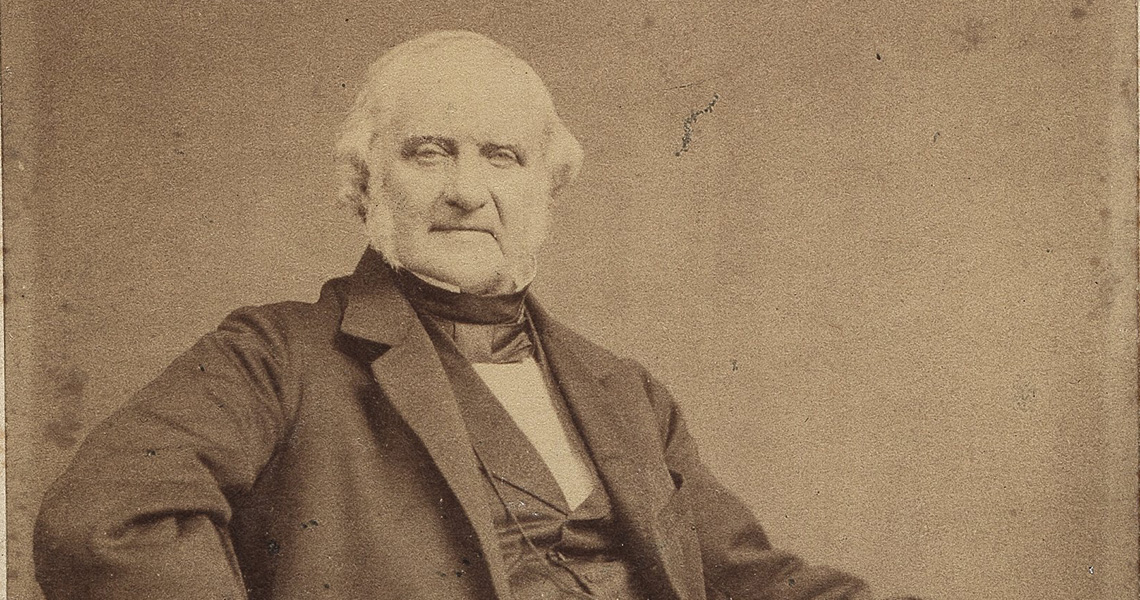 Future pin-up model Bettie Page, as a Peabody coed, ca. 1940s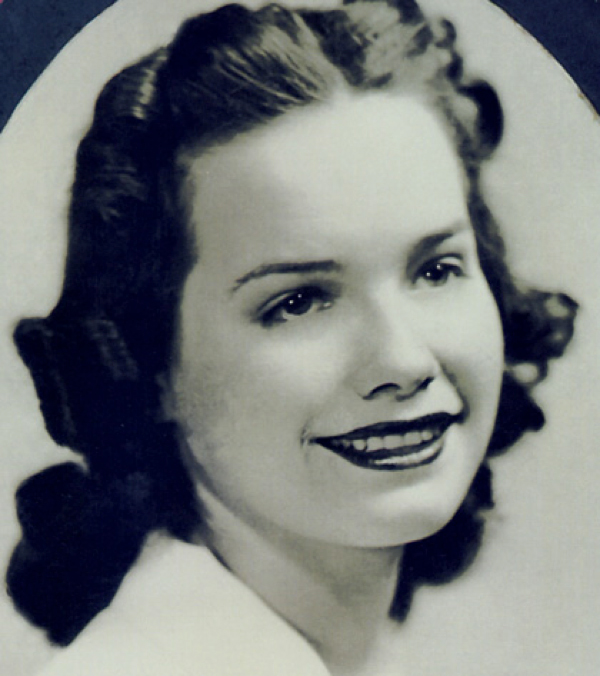 Backstory and Context
Peabody College, which has been given a bewildering array of names over the years, was founded as Davidson Academy in 1795, only a few years after Nashville itself was founded. (It was originally chartered by the State of North Carolina, because Tennessee would not be admitted into the Union until 1796.) In 1806, Davidson Academy was succeeded by Cumberland College, which in turn became the University of Nashville in 1826.

After the opening of a medical college and a preparatory school, among other institutions, the State Normal School opened in 1875 as part of Nashville University, with funds from philanthropist George Peabody, a self-made American financier who had become wealthy in London. Peabody was dedicated to rebuilding the educational system in the South after the Civil War, and he knew that a school for training teachers was necessary. In 1889, the State Normal School became Peabody Normal College. In 1909, the University of Nashville Medical College was absorbed into the University of Tennessee, and Peabody Normal College became the George Peabody College for Teachers. From its founding in 1875 to 1911, it issued 2600 teaching certificates.

After two disastrous fires in 1905, the American Baptist Home Mission Society closed Roger Williams University and by 1911 had sold part of the land to Peabody College for Teachers. In 1914, Peabody made the most controversial decision of its history up to that time, when it chose to move from downtown Nashville to the location formerly occupied by Roger Williams University, near Vanderbilt University. The idea of Peabody's proximity to Vanderbilt was that the latter would supply the general classical, literary and scientific training for students, and Peabody would provide professional and technical training, with students of either institution having access to courses offered in the other. The new Peabody campus opposite Vanderbilt was modeled after Thomas Jefferson's University of Virginia design. Rumors abounded that the fiercely independent college was about to merge with Vanderbilt. However, the institution's first president, Bruce Payne, established an egalitarian, informal atmosphere in Peabody quite distinct from the tone of elitist Vanderbilt, and so for many years there was no merger.

During WWII, about half the campus was taken over by the Army Air Corps, training airmen for the war. It was at about this time that the woman who would become one of Peabody's best-known alumni attended the school: the future pin-up model Bettie Page. Page's high GPA in high school got her a $100 scholarship (the equivalent of about $1700 in 2017) to Peabody, where she majored in English and also became interested in drama. After graduation in 1944, her teaching career was brief, mostly because, as she later admitted, she couldn't control the boys in her classes. Pursuing her interest in acting, she drifted to New York, where a new career as "Queen of the Pin-ups" awaited her. Former Second Lady Tipper Gore is also an alumna of the school.

After the war, a Veterans Village was built at Peabody to accommodate ex-soldiers and their families. Under President Henry Hill in the late 1940s and 1950s, Peabody would become a liberal arts undergraduate college with a world-class graduate school of education. In the 1950s, the summer school was established for adults seeking advanced degrees. An experimental preschool program developed at Peabody was the seed for the Head Start program developed by the Johnson Administration. The John F. Kennedy Center (now the Vanderbilt Kennedy Center), constructed in 1965, became one of the outstanding early childhood research centers in the world.

In 1979, the inevitable finally happened and, after 65 years of working in tandem, proudly independent Peabody College merged with Vanderbilt. There were a number of reasons for this, including a recession coupled with inflation in the early 1970s which affected both the size of the faculty and undergraduate and graduate enrollment. Currently, Peabody College of Education and Human Development offers hands-on education in more than a dozen areas for graduate and professional students. Peabody has more than a dozen research labs and centers on campus. In 2013, Peabody was named by U.S. News and World Report as the top graduate school of education in the country for the fifth consecutive year.


Sources
Staff historian. "NRHP Nomination Form." U.S. Dept. of the Interior, National Park Service. Published: 7/20/76. Access Date: 9/10/17. https://npgallery.nps.gov/pdfhost/docs/NHLS/Text/66000723.pdf.
"Peabody College Chronology." Vanderbilt Univ. - Special Collections and University Archives. Access Date: 9/10/17. http://www.library.vanderbilt.edu/speccol/digcoll/gpcchrono.shtml.
Parker, Franklin and Parker, Betty J. "George Peabody College of Vanderbilt University." The Tennessee Encyclopedia of History and Culture. Access Date: 9/10/17. http://tennesseeencyclopedia.net/entry.php?rec=541.
"Roger Williams University 1866-1929." Tennessee State University Library. Access Date: 9/10/17. http://web.archive.org/web/20100602105952/http://www.tnstate.edu/library/digital/roger.htm.
"A Century Past: Peabody on 21st (Video)." Vanderbilt Peabody College (About Us). Access Date: 9/10/17. https://peabody.vanderbilt.edu/about/aboutpeabody.php.
Jackson, Sharyn. "Bettie Page Revealed: 6 Little-Known Facts on the Pinup Legend." Biography. Publication Date: 12/3/13. Access Date: 9/10/17. https://www.biography.com/news/bettie-page-revealed-6-facts.
McFadden, Robert. "Bettie Page, Queen of Pinups, Dies at 85." New York Times. Publication Date: 12/11/08. Access Date: 9/10/17. http://www.nytimes.com/2008/12/12/arts/12page.html?mcubz=0.
"Biography (Tipper Gore)." The White House (Clinton administration). Access Date: 9/10/17. https://clintonwhitehouse4.archives.gov/WH/EOP/VP_Wife/megbio.html.
"Vanderbilt University (Peabody)." U.S. News and World Report: Education. Access Date: 9/10/17. https://www.usnews.com/best-graduate-schools/top-education-schools/vanderbilt-university-peabody-061....
Patterson, Jim. "Vanderbilt Peabody No. 1 education school for fifth consecutive year." Vanderbilt University – Research News. Publication Date: 5/12/13. Access Date: 9/10/17. https://news.vanderbilt.edu/2013/03/12/usnews-graduate-2013/.
Additional Information