The Battle of Corinth
Introduction
Not to be confused with the Siege of Corinth, which took place a few months earlier between April 29 to May 30, 1862, the Battle of Corinth (also known as the Second Battle of Corinth) occurred here on October 3-4. In the Spring battle, Union forces besieged the city and were ultimately victorious. In the Autumn battle, the Confederate attempted to regain control of the city and its key railroad crossings. The Confederates made initial gains but Union forces were able to eventually push the Confederates back, winning the battle and preserving control of the city. The battle and the skirmishes that occurred around it were among some of the most ferocious and bloodiest battles in the state. Union forces suffered over 2,500 casualties and the Confederates over 4,200 (these numbers include those wounded or captured). Many of those Union soldiers who died are buried in the Corinth National Cemetery, which was established in 1866 following the Civil War. Three Confederate soldiers—two known and one unknown—are also buried here. The cemetery is listed on the National Register of Historic Places, and is part of the Siege and Battle of Corinth Sites National Historic Landmark District, which comprises of several sites in the area.
Images
Entrance to Corinth National Cemetery. Photo: U.S. Department of Veterans Affairs - National Cemetery Administration.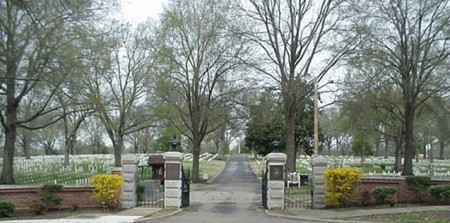 Map of the battle as it occurred on October 3rd.
Backstory and Context
As stated briefly above, Corinth was a strategically important railroad hub. Two major Confederate railroads passed through the city: the Memphis and Charleston, which was the only railroad in the South that ran from the Mississippi River (beginning at Memphis) to Richmond, Atlanta and other major cities; the other railroad was the Mobile and Ohio, which ran north to south from Mobile to Columbus, Kentucky. Controlling Corinth meant of course controlling these railroads, which were invaluable for troop and supply movement, as well as for regular economic activity. As such, the city was major focal point during the war.

The Union was able to reach it as a result of their decisive victory at Battle of Shiloh on April 6-7, 1862, which took place about 15 miles to the northeast. The victory forced the Confederates to regroup and move to the south to Corinth. The Battle of Corinth enabled the Union to make further incursions southward, including to the city of Vicksburg, and to begin efforts to gain control of the Mississippi River.
Sources
Hawke, Paul & et. al. "Siege and Battle of Corinth Sites." National Park Service - National Register of Historic Places Nomination Form. May 6, 1991. https://en.wikipedia.org/wiki/Siege_and_Battle_of_Corinth_Sites.

"Historical Information." U.S. Department of Veterans Affairs -National Cemetery Administration. Accessed August 29, 2017. https://www.cem.va.gov/CEM/cems/nchp/corinth.asp#hi.

Sammartino, Therese. "Corinth National Cemetery." National Park Service - National Register of Historic Places Nomination Form. November 20, 1996. https://npgallery.nps.gov/GetAsset/92413c82-3d42-4a2f-b6d0-79305944ad07.

Maps: by Hal Jespersen, www.cwmaps.com, via Wikimedia Commons
- https://en.wikipedia.org/wiki/Second_Battle_of_Corinth#/media/File:Corinth_October_4_1862.png
- https://en.wikipedia.org/wiki/Second_Battle_of_Corinth#/media/File:Corinth_October_3_1862.png