Confederate Statue at Red Brick Courthouse (1913-2017)
Introduction
Donated in 1913 by the United Daughters of the Confederacy, this statue depicts a Confederate cavalryman with the inscription "To Our Heroes of Montgomery County Maryland: That We Through Life May Not Forget to Love the Thin Gray Line." It stood for over a century beside Rockville's Red Brick Courthouse. The 20-foot high, 13-ton statue was removed by crane in July 2017 and will be relocated to White's Ferry, remaining in Montgomery County but no longer on public, county-owned land.
Images
This Confederate statue was dedicated in 1913, part of a wave of Confederate monuments that were dedicated both to honor aging veterans and support the "Lost Cause" of the Confederacy which included a strict racial hierarchy.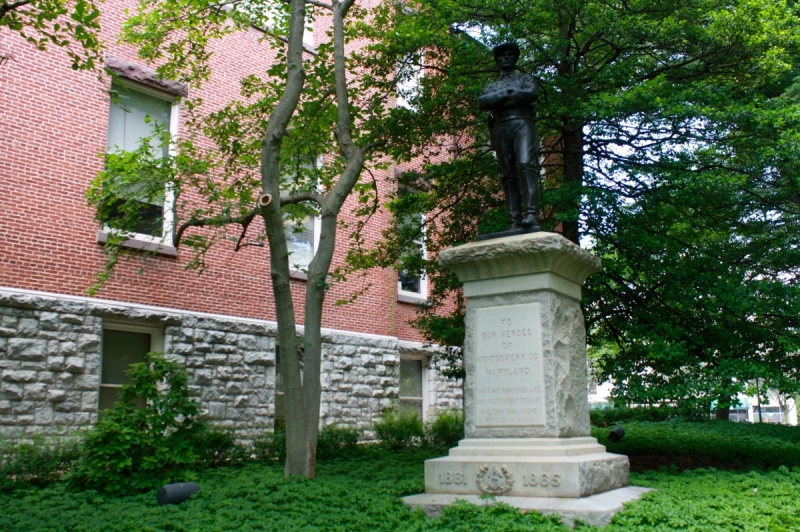 Backstory and Context
The United Daughters of the Confederacy (est. 1894) actively promoted the "Lost Cause" narrative of the Old South and donated numerous statues during the early 20th century. According to historian David Blight, their membership grew rapidly between 1900 and 1920, despite the defeat of the Confederacy decades earlier. Monuments such as this one, standing on prominent public land outside a courthouse, allowed pro-Confederacy groups to continue promoting their ideology and reinforcing their interpretations of the war.


Sources
Blight, David. Race and Reunion: The Civil War in American Memory. Cambridge, MA: Harvard University Press, 2001.

Lefrak, Mikaela. "Montgomery County Moves Confederate Statue From Rockville To Private Land." WAMU, American University Radio. July 25, 2017. Accessed August 25, 2017. http://wamu.org/story/17/07/25/montgomery-county-moves-Confederate-statue-private-land/.

Metcalf, Andrew. "Rockville Confederate Statue Removed." Bethesda Magazine. July 24, 2017. Accessed August 25, 2017. http://www.bethesdamagazine.com/Bethesda-Beat/2017/Rockville-Confederate-Statue-Removed/.


Additional Information