The First Parish Church
Introduction
The First Parish Church of Portland, Maine, currently the home of the Portland Unitarian Universalist congregation, is the oldest religious worship building in Portland. Dedicated in early 1826, the church was designed by John Mussey and built by mason Henry Dyer. In addition to being the earliest place of worship in the city, it also holds the record of being the first granite structure of note constructed east of Portsmouth, New Hampshire. This church has had an active congregation for all of its nearly 200 years of service to the City of Portland.
Images
The First Parish Church of Portland Maine in May of 2017, Photo by Kenneth C. Zerkel of Wikimedia Commons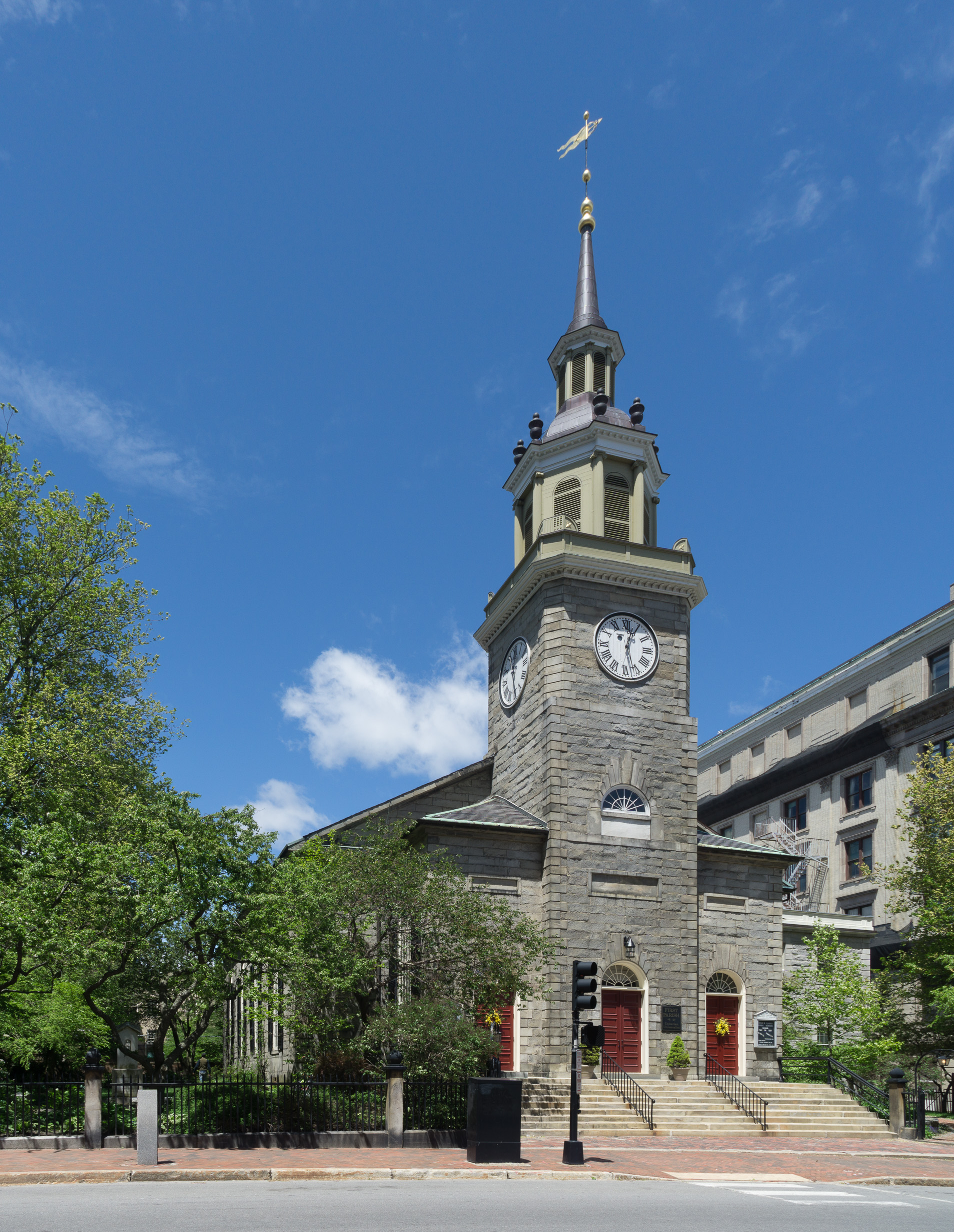 Photo of the Church in April of 1936, Photograph by Allen L. Hubbard, Credit to Library of Congress, Prints & Photographs Division, ME,3-PORT,3-7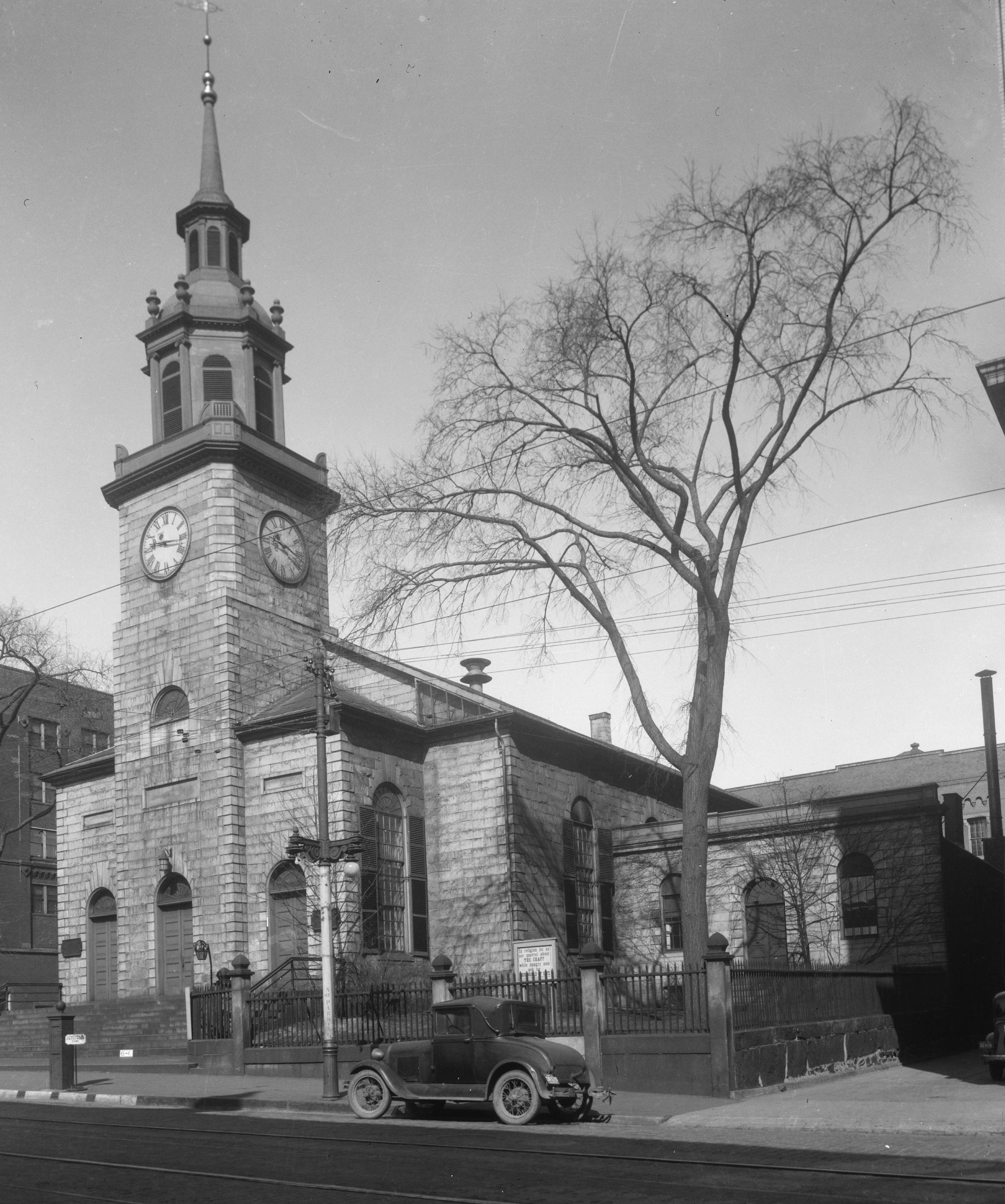 Backstory and Context
The First Parish Church of Portland is one of the crown jewels of Congress Street, often recognized as the busiest street in the city. The church is one of the best-preserved examples of Federal-style architecture in New England, having survived even the horrific Portland Fire of 1866 due to its hearty granite construction. The First Parish Church stands amid some of Portland's most historically relevant buildings, including the Portland City Hall and the Etz Chaim Synagogue. Despite standing aside these incredible pieces of history, it still stands out as incredibly unique and beautiful.
The First Parish Church was established on the site of the gathering place of the original congregation, which was a log building dating to before the 1720s. Even as other churches rose in the Portland area, many believers remained in the congregation of the First Parish Church, even while attending other churches, simply because of the legacy and influence of the church. This legacy continues to this day; the First Parish Church is a Unitarian Universalist church that welcomes believers of all faiths.
The first citizens of the City of Portland were all members of the First Parish, and a number of Portland's most important historical figures were included in the congregation of the First Parish Church. The congregation included Henry Wadsworth Longfellow and his family, illustrious Portland businessman Asa Clapp, and members of the Deering family. The church contains a great number of commemorative plaques designed to immortalize the most influential parishioners.
Additionally of note, since the church settled into its Unitarian Universalist faith, the church has welcomed female faith leaders. The current minister of the church is Reverend Christina Sillari, whose journey of faith involved the deep study and understanding of multiple faiths. She ultimately came to be a leader in the Unitarian Universalist congregation after recognizing the Universalists' great respect for the open-minded experience of diverse paths of faith.
Sources
First Parish Portland Unitarian Universalist. facebook.com. Accessed August 19, 2017. https://www.facebook.com/firstparishportlandme/. Official Facebook page of the First Parish Church

First Parish Homepage. First Parish Portland. Accessed August 19, 2017. http://firstparishportland.org. Official homepage of the First Parish Church

NPS NRHP Documentation for the First Parish Church. National Park Service. June 01, 1972. Accessed August 19, 2017. https://npgallery.nps.gov/pdfhost/docs/NRHP/Text/69000008.pdf. Official NPS NRHP registration information for the church

First Parish Church (Portland, Maine). Wikipedia.org. Accessed August 19, 2017. https://en.wikipedia.org/wiki/First_Parish_Church_(Portland,_Maine). Meta-source for general information on the First Parish Church


Additional Information