Lesbian Herstory Archives
Introduction
The Lesbian Herstory Archives is home to the world's largest collection of materials by and about lesbians and their communities. It is also a community center and museum. The Archives began in the 1970s, but it did not find its current home until 1992, when a location in Park Slope, Brooklyn was purchased. The Lesbian Herstory Archives opened the next year at this location.
Images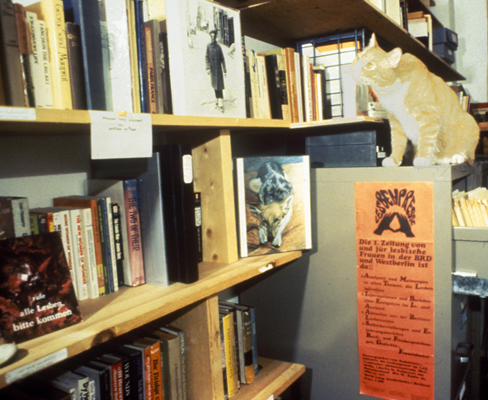 Backstory and Context
A history and description of the archives from the official website:
"The Lesbian Herstory Archives is a magical place—part library, part museum, a community gathering space- and it houses the world's largest collection of materials by and about lesbians and their communities. The Archives has both print and non-print materials, such as books, unpublished papers, conference proceedings, newsletters, photographs, slides, periodicals, audiotapes, CDs, DVDS, videos, films, subject and organizational files, reference tools, artwork, calendars, banners, manuscripts, music, clothing, buttons and other materials about lesbians and lesbian lives in the U.S. and in other countries. With minor exceptions, all of the material has been donated to the Archives.

We especially welcome the "casual browser," the lesbian who is searching for an image of herself in our past or just wants to find out more about the herstory of our communities. Of course, we also welcome academic researchers, writers, filmmakers, and others who use our materials for specific projects.
For the first 15 years of our existence, The Archives was located in Joan Nestle's apartment on the Upper West Side of Manhattan. In 1985, with books three deep on the shelves and every spare inch of space (except the bed) taken up with lesbians, we began a fundraising campaign to find a permanent home. In 1990, with money donated by lesbians worldwide, we purchased a four-story, turn-of -the –20th-century limestone townhouse in Park Slope, Brooklyn, that we now own outright. We had our official opening in June 1993.


The house has an amazing amount of its original detail, including beautiful mahogany wainscoting in the hallway and dining room, oak floors, leaded glass doors on built in cabinets surrounding the fireplace in the dining room, and mahogany closets plus marble sinks in the inner passageway between the upstairs rooms. We added built-in bookshelves, a workstation, an outside wheelchair lift and a wheelchair accessible bathroom on the first floor. The first floor has a comfortable couch you can sink into to watch a video or read a book as well as worktables, a photocopier, and hookups for laptops. The second floor also has worktables and laptop hookups. The basement, first and second floors are used for processing and storing the collections, as well as for research. The top floor has a caretaker's apartment."
Sources
"An Introduction." Lesbian Herstory Archives. Accessed Web, 6/15/17. http://www.lesbianherstoryarchives.org/tourintro.html.


Additional Information