Plymouth Church
Introduction
The current Plymouth Church was built in 1850, a year after the previous Church building was destroyed by fire. The Church was designed by Joseph C. Wells. Leading up to the Civil War, the Church became a prominent anti-slavery hub with speakers coming from all over to express their views. These speakers included Clara Barton, Mark Twain, and Frederick Douglas along with many others. The Church was also visited by Abraham Lincoln before he decided to run for President of the United States. The original pastor, Henry Ward Beecher, was the brother of Harriet Beecher Stowe, who wrote Uncle Tom's Cabin. Under Beecher's watch, the Church served as a major stop on the Underground Railroad for slaves seeking their freedom. In fact, the tunnels underneath the Church where the slaves were hidden can still be view today.
Images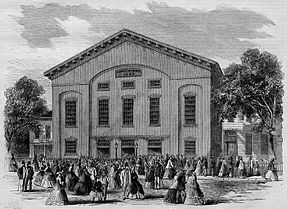 Backstory and Context
Born in 1813, Henry Ward Beecher was the brother of Harriet Beecher Stowe, author of Uncle Tom's Cabin, and a prominent preacher and abolitionist throughout the 19th century. His beginnings as a teacher can be traced back to Indiana where he spent time giving sermons in Lawrenceburg and Indianapolis. In 1847, Beecher moved to Brooklyn to preach at the recently established Plymouth Church. This Church was burned down in 1849, and a new Church was built in its place.

Beecher was best known for preaching about God's love rather than God's wrath, which was a change from the fire and brimstone preachers at the time. His message attracted people from all over, including Abraham Lincoln. Lincoln visited the Church in 1860, where he sat in the pews and listened to the sermon. It was during this visit to New York that Lincoln stated his position against slavery at the Great Hall of the Cooper Union. Lincoln wasn't the only important figure to walk through the doors of Plymouth Church. Famous abolitionist and writers such as Mark Twain, Clara Barton, Frederick Douglas, and Sojourner Truth spoke at Plymouth Church, using the pulpit to deliver their messages on freedom and equality, particularly for African Americans and women.

Plymouth Church also became an important stop on the Underground Railroad, a series of locations and stops where slaves would hide and recoup so they could continue their journey North to freedom. In fact, Beecher openly preached about disobeying to the Fugitive Slave Law and participating in the Underground Railroad. He even used a secret passage in the Church that led to underground tunnels and passages to hide slaves making their way to Canada through New York. Beecher would also hold slave auctions, but instead of selling the slaves to owners who would take them South, Beecher raised money to buy the slave's freedom.

In 1887, Beecher passed away after suffering a stroke. The Church was passed over to Lyman Abbott. In 1934, Plymouth Church became Plymouth Church of the Pilgrims when the Church merged with the Church of the Pilgrims. The Church was visited by Dr. Martin Luther King Jr. in 1963, two years after Plymouth Church was named a National Historic Landmark.
Sources
"Plymouth Church of the Pilgrims." Atlas Obscura. Accessed Web, 7/31/17. http://www.atlasobscura.com/places/plymouth-church-of-the-pilgrims.

"History." Plymouth Church. Accessed Web, 7/31/17. http://www.plymouthchurch.org/history/.

"Plymouth Church of the Pilgrims." National Park Service. Accessed Web, 7/31/17. https://www.nps.gov/nr/travel/underground/ny6.htm.

"Henry Ward Beecher." Biography. 10/13/15. Accessed Web, 8/1/17. https://www.biography.com/people/henry-ward-beecher-9204662.


Additional Information