Linda Vista Branch Library
Introduction
The current library facility is an award winning building by architect Rob Quigley, dedicated on December 12, 1987. It features two courtyards which extend visually into the interior space and a raised rotunda with clerestory windows. Playful elements and lightweight wood construction balance the traditional Mediterranean styles, formal spaces, and clear programmatic plan.
Images
Linda Vista Branch Library, 1987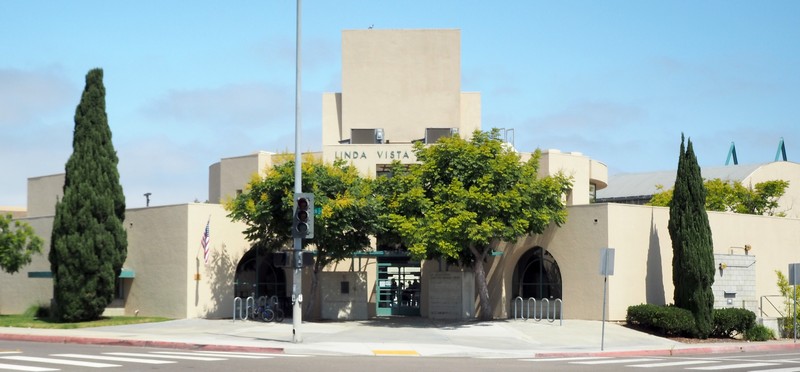 Linda Vista Branch Library, 1987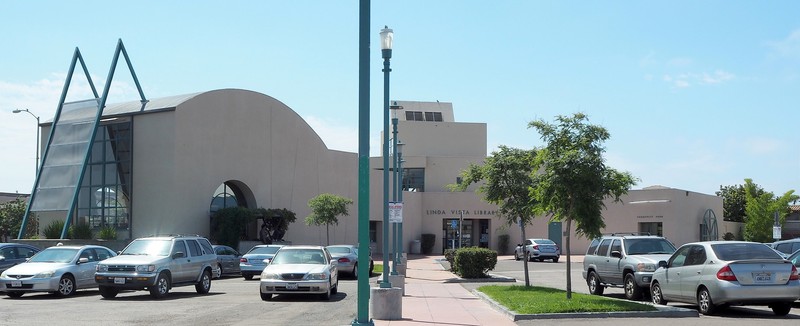 Backstory and Context
This is the third location for the neighborhood public library, which opened June 30, 1942 in a 400 sq. ft. gardener's cottage just across Kelly St. from Bayside Community Center. The library was overwhelmingly busy from its first day. A year later a tool shed was relocated to expand the cottage and became the children's room. Though crowded and among the city's smallest, the Linda Vista Branch in 1947 had the third highest circulation among San Diego's 13 branch libraries and the highest juvenile circulation.

A larger library facility was built in 1951 to meet the neighborhood's high use. The building is now occupied by the Educational Enrichment Systems Child Development Center.

Additional Information