Woodman Building
Introduction
Designed by accomplished New England Architect George M. Harding in 1867, the Woodman Building was one of a number of new commercial buildings that rose up after the Portland Fire of 1886 destroyed many of the existing downtown structures. Designed in the Second Empire Revival style, it is immediately recognizable for its iconic mansard roof and dormer windows that stand out among the newer buildings in the Portland Waterfront.
Images
Photo of the Woodman Building in 2009 by Marcbela of Wikimedia Commons, Public Domain Photograph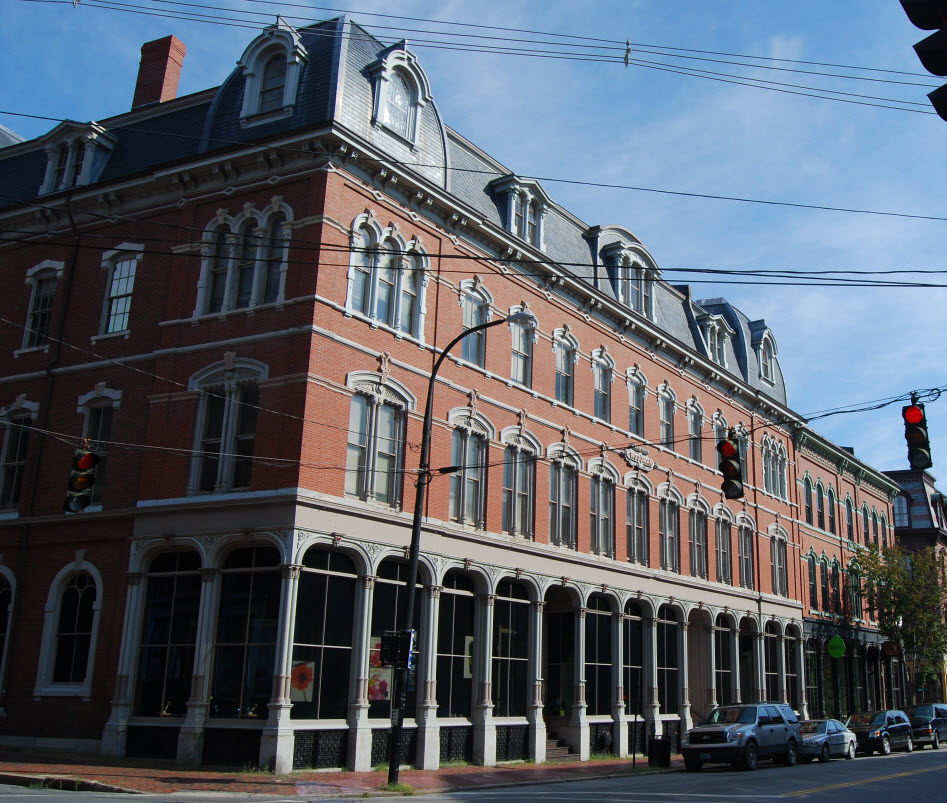 Backstory and Context
George M. Harding designed the Woodman Building in 1867 to be the most elegant business building to rise up out of the ashes of the 1886 Portland Fire. Born in 1827 in the state of Massachusetts, Harding studied at the Lowell Institute of Boston at the early age of 17. Following his studies, he worked in the city of Boston as an architect until the mid-1850s. Harding traveled north, working in a variety of cities in New England until the end of the 1850s when he made his home in Portland where his skills as an architect were in demand. Even after his return to Boston in 1873, Harding continued designing buildings to be constructed in the Portland area.
The Woodman Building is the namesake of its financiers, the Woodman Family, who hoped to construct an attractive business building that would help revitalize Portland's devastated waterfront district. It was designed in the French Second Empire style, a style which had a revival in the mid- to late 1800s. This style was characterized by elaborate mansard roofs, ornate windows, and rectangular based domes. In the United States especially, the Second Empire style drew inspiration from design styles that were in vogue in the 1600s.
The Woodman Building's presence in the waterfront district led to a long-lasting characterization of the waterfront as an elegant commercial neighborhood, a legacy that stands to this day. The waterfront of Portland is, partially in thanks to the legacy of such buildings, one of the most well-recognized and beautiful destinations sought by travelers to the state of Maine.
Sources
NPS NRHP Nomination for the Woodman Building. National Park Service. February 23, 1972. Accessed July 30, 2017. https://npgallery.nps.gov/pdfhost/docs/NRHP/Text/72000075.pdf. Official NPS NRHP Nomination Filing for the Woodman Building

The Woodman Building. Wikipedia.org. Accessed July 30, 2017. https://en.wikipedia.org/wiki/Woodman_Building. Meta-source for general information on the Woodman Building

George M. Harding. Wikipedia.org. Accessed July 30, 2017. https://en.wikipedia.org/wiki/George_M._Harding. Meta-source for general information on architect George M. Harding

NRHP Nomination for the Searsport Union School. National Park Service. February 03, 1993. Accessed July 30, 2017. https://npgallery.nps.gov/pdfhost/docs/NRHP/Text/93000203.pdf. Information on George M. Harding from the NPS NRHP nomination of one of his other works

Second Empire Architecture. Wikipedia.org. Accessed July 30, 2017. https://en.wikipedia.org/wiki/Second_Empire_architecture. Meta-source for general information on the Second Empire Style


Additional Information