The Unisphere
Introduction
The Unisphere was constructed in 1964 by the American Bridge Division of the United States Steel Corporation and was one of the highlights of the 1964-65 World Fair. It was designed by landscape artists Gilmore D. Clarke and became one of the symbols of the fair which was held at Flushing Meadows Corona Park. The sculpture stands 140 feet tall and was designated a New York City landmark in 1994.
Images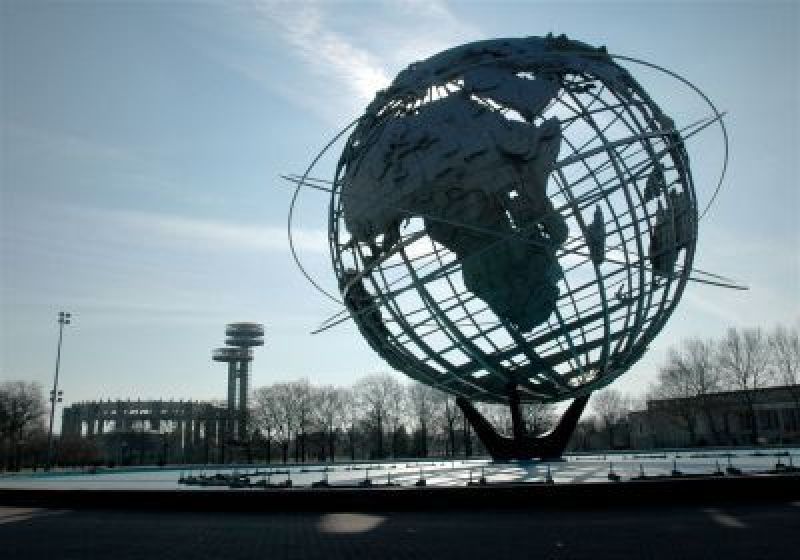 Backstory and Context
The Unisphere was built for the 1964 World's Fair, which took place in Flushing Meadows Corona Park in Queens, New York. It is one of the largest world globes ever assembled at 140 ft tall and 120 ft in diameter. It weighs in at 350 tons. The globe marks the capitals of nations across the world with lenses, which were lit with flashing lights during the World's Fair. Currently, the lights have been removed, but the capitals from 1964 are still marked if you look closely. Surrounding the globe are three orbital rings that represent the path of three satellites that first circled Earth from space. The Unisphere was built by the United States Steel Corporation and was designed by Gilmore D. Clarke. 
The 1964 World's Fair brought together ideas and developments in science and technology from across the world. The objective of the World's Fair in Queens was to promote global peace through understanding. This was a prominent issue for the United States and the world in 1964, which was a time when a war raged in Vietnam and social changes were occurring around the globe. With space exploration and other advancements in science and technology, the world became smaller and nations were intertwined into a single global economy that would shape the future of the planet moving forward. 
After the 1964 World's Fair, the Unisphere was neglected by park officials and suffered deterioration over time. For example, parts of the nations attached to the globe peeled off and would flap around during heavy winds. In 1994, the Unisphere, along with Flushing Meadows Corona Park as a whole, was renovated. The Unisphere was remodeled and damaged areas were reinforced during a fifteen-year project. It received official City Landmark Status in 1995. Today, the Unisphere still stands as a prominent symbol of both the City and the World. 
Sources
"Flushing Meadows Corona Park: Unisphere." NYC Parks. Accessed Web, 7/23/17. https://www.nycgovparks.org/parks/flushing-meadows-corona-park/highlights/12761.
Roleke, John. "The Unisphere: Shiny Symbol of Queens." Trip Savvy. 7/19/17. Accessed Web, 7/28/17. https://www.tripsavvy.com/unisphere-of-flushing-meadows-park-ny-2818805.
Samuel, Lawrence. The End of the Innocence: The 1964–1965 New York World's Fair. Edition 1st. Syracuse, New York. Syracuse University Press, 2007.