Private Lyle F. Mahan
Introduction
Private Lyle F. Mahan; Born 23 Sep 1891 – Huntington, WV; Died 15 Oct 1918 – USS Siboney; 27th Co., Provisional Ordnance Detachment, Ordnance Department - US Army
Images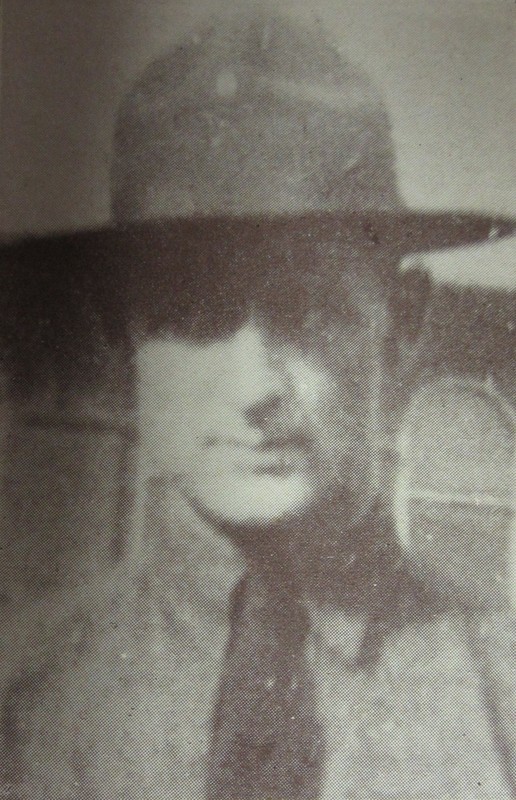 Lyle F. Mahan - June 14th, 1918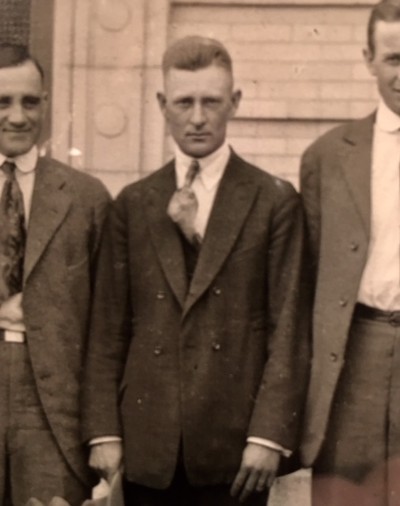 Headstone at Spring Hill Cemetery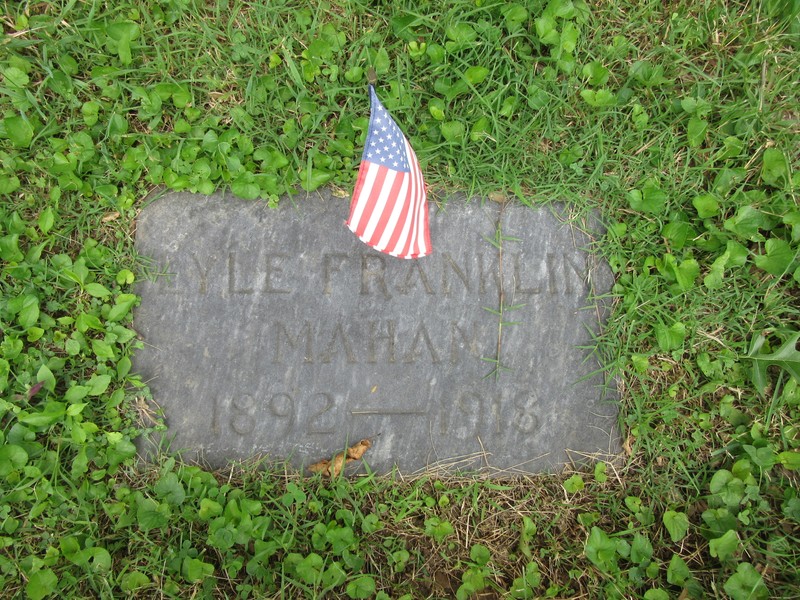 Backstory and Context
Lyle Franklin Mahan was born on September 23rd, 1891, in Huntington to Robert and Nannie Mahan. He lived at 643 Washington Avenue, Huntington, and worked for Chaffe Grocery Company. He was inducted into service on June 14th, 1918, as part of Draft Call No. 594 and was sent to the mechanical training camp at Morgantown, where he trained to be an automobile mechanic. Upon completion of his training, he was sent to Camp Hancock, Georgia. He was sent to New York City and assigned as a Private, serial number 3439375, to a provisional ordnance unit. He sailed for France from Hoboken, New Jersey, on the SIBONEY on October 5th, 1918. His sister, coming to visit him, just missed the boat, and, on her way home, developed influenza. In a strange twist of fate, Mahan himself contracted the disease on the ship and developed pneumonia, dying on board at 3:20 PM on October 15th, 1918. His sister, at home, died 4 days later. The double grief experienced by his mother was the subject of great empathy in the community:
BROTHER, SISTER VICTIMS OF "FLU"
Lyle Franklin Mahan, Young Soldier, Died at Sea on October 15
The death of Lyle Franklin Mahan, 26, and his sister, Mrs. Jess Bagby occurred within four days of each other. Mrs. Bagby had just returned from New York, where she went to bid her brother farewell, prior to his sailing for France. She arrived in the city just too late to meet her brother, for his ship had sailed. Returning home she became ill with the influenza and died October 19. Monday evening a telegram was received from Washington by the parents, Mr. and Mrs. Robert Mahan, 645 Washington avenue, informing them of the death of the son at sea October 25, due to influenza. According to the message the body will be returned to Huntington for burial.
The young soldier was a well liked young man, and before entering the army was an employee of the Chaffee Grocery company. He enlisted with the mechanical draft and left for Morgantown, June 15, from there he was sent to Camp Hancock, Ga., and was on his way across to France when he fell a victim of the influenza. The mother, Mrs. Robert Mahan, is prostrate with grief over the death of her two children.
 – Huntington Advertiser, October 29th, 1918
MOTHER SORROWS FOR HER ONLY SON
HE DIED WHILE ON THE WAY TO WAR
Sacrifice and Honor as Great as If Death Had Come on a Battlefield of France
There is much sympathy in the community for Mrs. Robert Mahan, of 673 Washington avenue, who recently lost her two children, a married daughter and a son. The boy was taken sick and died while on the ship that was to carry him to France to fight for humanity.
The bereaved mother feels the loss of her son more because he was not given the opportunity he so greatly desired to get into active service. She may feel, and rightly so, that his death on the way to service was as much an offering on the altar of his country as if the end had come on the battlefield.
 – Huntington Herald-Dispatch, October 30th, 1918
 His body was brought back and buried in Huntington's Spring Hill Cemetery:
Military Honors for Dead Soldier
Militia Reserves Escort For the Body of Lyle Franklin Mahan
The Huntington militia reserve marched into Spring Hill, Huntington's city of the dead, Friday, paying their last tribute to all that was mortal of Lyle Franklin Mahan, twenty-six, only son of Mr. and Mrs. Robert Mann, 643 Washington avenue, who died at sea, Oct. 15, while en route to France. Taps were sounded and salute to the dead was fired over the grave. Brief religious services were held at the grave with Rev. C.A. Slaughter, of the Johnson Memorial church, in charge. The body was accompanied by First Class Private John Daugherty of Philadelphis, stationed at Camp Mills, N.Y., and arrived in Huntington Friday morning at six o'clock. Young Mahan was one of the first to enlist in the mechanical training school at Morgantown last June 14, and was transferred from there to Camp Hancock, Ga. The death of the son makes the grief of the bereaved parents doubly hard to bear because of the death of the only daughter, Mrs. Jess Bagby, a few days ago. Both succumbed to influenza.
 – Huntington Advertiser, November 1st, 1918 (This article is courtesy of the KYOWVA Genealogical and Historical Society, from page 17 of their Summer 2015 newsletter)
[From In the Service of Their Country - used with permission of the author]
Sources
Woodard, Benjamin. In the Service of Their Country: The Story of the Soldiers from Cabell County, West Virginia, Who Gave the Ultimate Sacrifice in the Great War. Sixth Printing. Benjamin Woodard - Lulu, 2019.
Image Sources
Honor Roll of Cabell County, W.Va. - Author's Picture (Benjamin Woodard)

Courtesy of Peggy Mynes

Author - Benjamin Woodard

Additional Information