Supply Sergeant Harry B. Osborne
Introduction
Harry B. Osborne; Unknown; Died 26 Mar 1919 – Luxembourg; Battery D, 20th Field Artillery Regiment, 5th Field Artillery Brigade, 5th Division – US Army
Images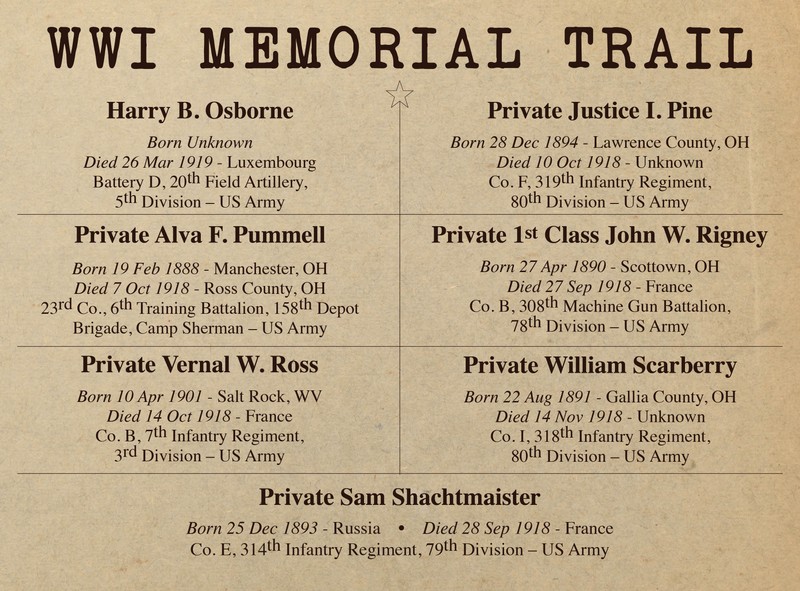 Backstory and Context
Harry B. Osborne lived in Cabell County. He was assigned as a Supply Sergeant, serial number 1045665, to Battery D of the 20th Field Artillery Regiment, 5th Field Artillery Brigade, 5th Division, US Army. This unit operated 155mm artillery pieces. According to Sergeant Walter L. Lynch of the same unit:
Took sick March 20, 1919 with pneumonia, next day went to Field Hospital #30 at Mondorf, Lux[embourg]. Where he died 11:45 AM March 26, 1919. Was buried in the cemetery at ELLANGE, LUX [the next day]. Thought to have relatives in Virginia, but no information or addresses known.
His remains were sent home from Antwerp on the USAT POCAHANTAS on September 25th, 1920, and they arrived in Hoboken, New Jersey, on October 19th. They were sent to Huntington for burial.
[From In the Service of Their Country - used with permission of the author]
Sources
Woodard, Benjamin. In the Service of Their Country: The Story of the Soldiers from Cabell County, West Virginia, Who Gave the Ultimate Sacrifice in the Great War. Sixth Printing. Benjamin Woodard - Lulu, 2019.
Image Sources
Author - Benjamin Woodard

Additional Information