Lieutenant, Junior Grade Dr. Bronson E. Summers
Introduction
Lieutenant, Junior Grade Dr. Bronson E. Summers; Born 2 Jan 1890 – Milton, WV; Died 28 Sep 1918 – Camp Quantico, VA; Assistant Surgeon, Marine Barracks, Camp Quantico – US Marine Corps
Images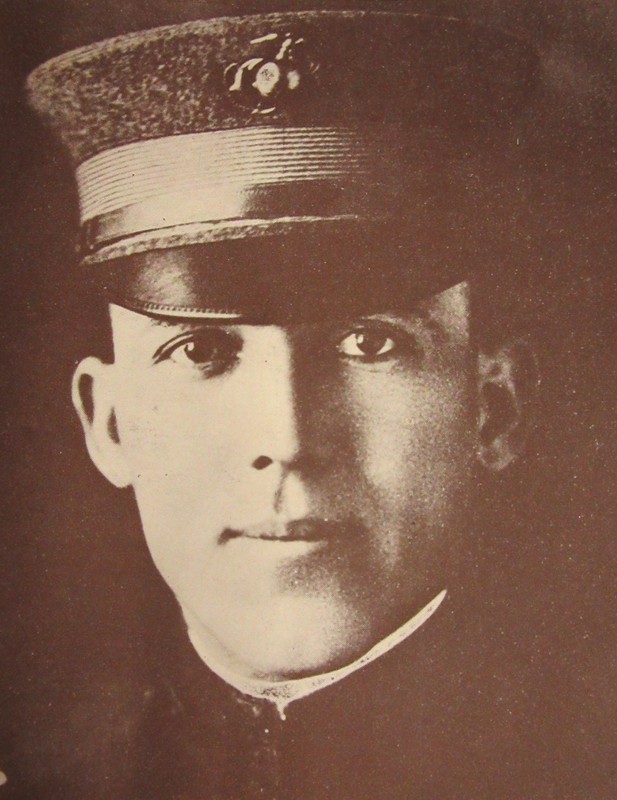 Backstory and Context
Dr. Bronson Ewing Summers was born on January 2nd, 1890, in Milton to Thomas B. and Annie Summers. He attended the Medical College of Virginia Commonwealth University, also known as the Medical Department of Hampden-Sydney College, and graduated in 1912. He was granted a Virginia medical license the same year. He lived at 408 West Grace Street, Richmond, Virginia, and was a physician for the Richmond public schools. He entered service in the US Navy on August 15th, 1917, and was assigned as a Lieutenant, Junior Grade, to be an Assistant Surgeon at the US Marine Corps Barracks, Camp Quantico, Virginia. He died of influenza and pneumonia at the Sick Quarters, Marine Barracks, Camp Quantico, on September 28th, 1918.
B.E. SUMMERS DIES OF 'FLU' AT PONTICO [sic]
Captain of Naval Medical Services Dies After Brief Illness From Dread Disease
FATHER RESIDENT OF TOWN OF MILTON
Brother Is Surgeon on Transport – Body Expected To Reach Huntington Today
Word was received here yesterday of the death at Camp Pontico of Captain Bronson E. Summers, U.S.N., medical corps, a son of Professor T.B. Summers, of Milton. Captain Summers died at the Pontico hospital after a brief illness from Spanish influenza. His father was enroute to Camp Pontico when the end came, having left in response to a message received Friday.
The remains of Captain Summers will reach Huntington some time today, probably at 1:25 o'clock. The funeral will be at Milton, but definite arrangements will be deferred until the arrival of Professor Summers with his son's body.
The decedent was one of two brothers who left successful civil practices in Richmond at the beginning of America's participation in the war to enlist in the naval medical service.
Dr. Toson Summers, his brother, is chief surgeon on one of the American transports. An effort is now being made to communicate with him.
Dr. Bronson Summers was a graduate of the University of Richmond. He was 28 years old. For three years he was a city physician in Richmond.
He was well known in Huntington where he had numerous relatives and many friends to whom the news of his death will bring much regret.
Besides his father and brother he leaves one sister, Miss Irene Summers, who is attending school in Richmond.
 – Huntington Herald-Dispatch, September 30th, 1918
He was buried in Milton Cemetery after a funeral in town:
SUMMERS RITES AT HOME THURSDAY
FUNERAL OF YOUNG ARMY SURGEON AT MILTON.
Brilliant Young Practitioner Laid Down His Life While in the Service of His Country.
The funeral of Capt. Bronson E. Summers, Medical Corps, U.S. Navy will take place at Milton Thursday afternoon at 2:15 o'clock.
A message to this effect was received yesterday evening from T.B. Summers of Milton, father of the brilliant young surgeon who laid down his life while in the service of his country. Dr. Summers, a Richmond practitioner, was on duty in a naval hospital at Pontico [sic], where he was stricken with Spanish influenza, from which he died after a brief illness.
 – Huntington Herald-Dispatch, October 2nd, 1918
SUMMERS FUNERAL TO BE HELD TODAY
ARMY CAPTAIN DIES OF SPANISH INFLUENZA.
Arrangements are Made for Local People Who Wish to Attend Services at Milton.
Funeral services for Captain B.E. Summers, who died in a military camp at Richmond last week of Spanish influenza, will be held at his former residence in Milton at 2 o'clock this afternoon. Captain Summers was attached to the medical corps of the camp and was well known throughout the tristate section.
Final arrangements for the service were not made until yesterday after his brother, Captain Allen Summers, a medical officer in the transport service, had arrived home.
Arrangements have been made to have the one o'clock Chesapeake & Ohio train stop at Milton to accommodate Huntington friends who want to attend the services. The burial will be made in the Milton cemetery.
 – Huntington Herald-Dispatch, October 3rd, 1918
[From In the Service of Their Country - used with permission of the author]
Sources
Woodard, Benjamin. In the Service of Their Country: The Story of the Soldiers from Cabell County, West Virginia, Who Gave the Ultimate Sacrifice in the Great War. Sixth Printing. Benjamin Woodard - Lulu, 2019.
Image Sources
Honor Roll of Cabell County, W.Va. - Author's Picture (Benjamin Woodard)

Additional Information