Ellen Blood House
Introduction
A longtime resident of Durant Avenue, the historic Blood House was moved to Regent Street in 2014. The home was built in 1891 for Ellen Blood and her children, who were then students at the university. The home is a City of Berkeley Landmark.
Images
The Blood House as it appeared in the early twentieth century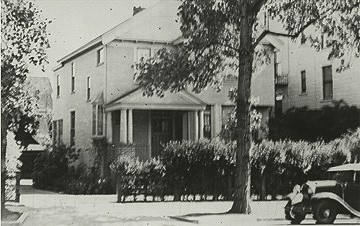 The Blood House being transported to Regent Street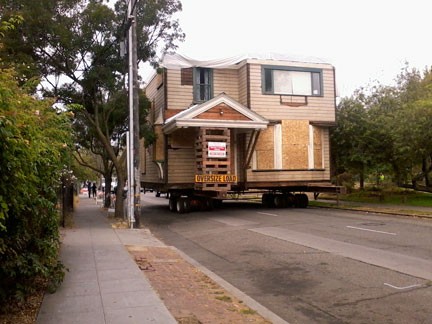 Backstory and Context
Berkeley's Durant Avenue was once a graceful thoroughfare lined with elegant homes. It's a far more commercialized street these days, and little of the old Durant remains. One of the last remaining vestiges of Durant's past--the Ellen Blood House, built in 1891--was moved to Regent Street in 2014.

Ellen Blood migrated west with her husband in the 1860s and settled in Tulare County. The Bloods did well for themselves and eventually moved to Berkeley, where their six children attended the university. Perry Tompkins bought the property in 1907 and made some alterations, most likely in the 1920s.

By the mid-twentieth century, Durant Avenue was a bustling thoroughfare lined with shops and various businesses. A number of the elegant old homes on the street were demolished and others began to slide into decay. The Blood House closed out the twentieth century in a weathered, unkempt state and with a parking lot as its closest neighbor. It was the only nineteenth century home left on Durant, and narrowly escaped demolition.

In 2014, however, the Blood House was given new life when husband and wife John Gordon and Janis Mitchell bought the house and had it relocated to Regent Street, along with the John Wooley House. The two homes were refurbished using as many original materials as possible, and turned into apartments.

The Blood House is a City of Berkeley Landmark.
Sources
Dinkelspiel, Frances. Two Historic Berkeley Homes get a Makeover. Berkeleyside. August 06, 2015. Accessed July 03, 2017. http://www.berkeleyside.com/2015/08/26/two-historic-berkeley-homes-get-a-makeover/.

Give the Blood House a Transfusion!. Berkeley Landmarks. Accessed July 03, 2017. http://berkeleyheritage.com/berkeley_landmarks/blood_house.html.


Additional Information