Howard Automobile Company Showroom
Introduction
The former Howard Automobile Company Showroom on Durant Avenue is significant for its fine Art Deco architecture as well its connections to important figures in both business and sports. The building was built for Charles W. Howard, who was both a successful local businessman and the owner of famed racehorse, Seabiscuit. It is a City of Berkeley Landmark.A
Images
Howard Automobile Company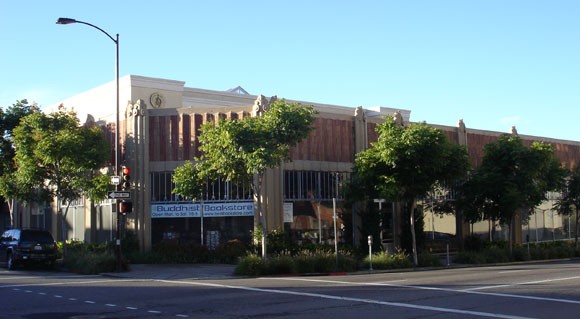 A newspaper advertising Howard Automobile Company.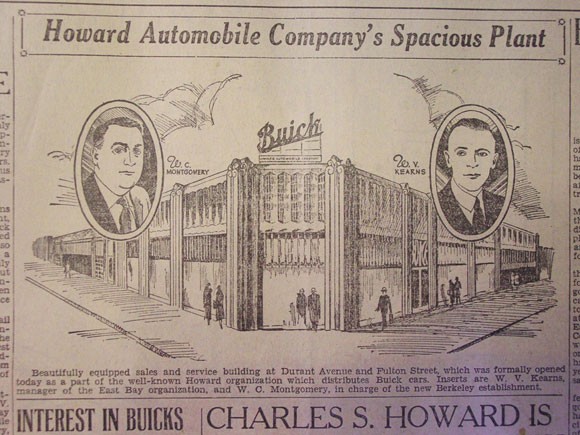 Backstory and Context
According to the story he told about himself, Charles S. Howard arrived in San Francisco in 1903 with 21 cents in his pocket. Two year later, the young man made the acquaintance of Billy Durant, who had just assumed leadership of Buick, and Durant gave Howard distributorship in eight western states. In a short period of time, the former bicycle repairman was a wealthy man.

In 1930, Howard built the large dealership on Durant Avenue. The building was designed by architect Frederick Reimers, and was a fitting showroom for its flashy owner. By the time the building was constructed, Howard, it was said, "belonged to every golf club in the state," and owned both a yacht and a large ranch.

After its heyday as the Howard showroom, the building changed hands numerous times. At one point in the 1980s, the building was home to a Chevrolet dealership owned by athlete Reggie Jackson. For a number of years, the building sat empty and in disrepair. Eventually the building was restored with such meticulous care that it won a Berkeley Architectural Heritage Association award. It is now owned by the Buddhist Churches of America.



Sources
Cerny, Susan. Howard Automobile Company Showroom. Berkeley Landmarks. August 12, 2003. Accessed July 01, 2017. http://berkeleyheritage.com/berkeley_landmarks/howard_showroom.html.