Reed-Henshaw House
Introduction
It is unknown when the Reed-Henshaw House was constructed, however, Mr. and Mrs. George W. Reed lived in the home in 1899. George W. Reed, of Moore & Reed, was an attorney. His partner was A. A. Moore, who resided on the corner of Sixth Avenue and East Twentieth Street, and was the President of the Oakland Bar Association. The offices of Moore & Reed, attorneys-at-law, were located on the SE corner of Ninth and Broadway. On July 12, 1983, the Reed-Henshaw House was designated as an Oakland Landmark.
Images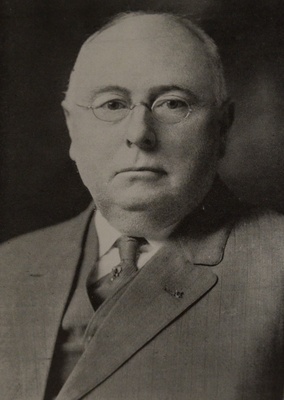 A shot of the house from the side.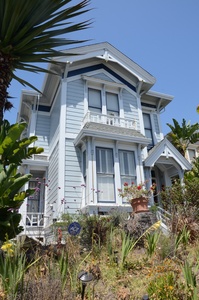 Backstory and Context
George William Reed was born on June 14, 1852. At the time of his death, he was considered to be one of the leading attorneys in Oakland. He was born ins Maine but his family moved to Oakland when he was four years old. He attended public school and was Class Secretary in his graduation year from the University of California in 1872.

After he graduated he began to study the law under the mentorship of an attorney, which was a way of becoming a lawyer in the 1800s. After his studies, he became the Deputy County Clerk and worked under his brother, Charles G. Reed. He was admitted to the bar in 1879 and became a clerk for A.A. Moore from 1880 - 1883, who he would later form a partnership with. In November 1888 George Reed was elected District Attorney, and in 1890 he was re-elected.
In 1900 Reed was a delegate to the Republican National Convention in Philadelphia, which nominated William McKinley for President, and again in 1904 served as a delegate to the Chicago National Convention, as well as 1908 where William H. Taft was nominated for President. By this time the family no longer lived in the Reed-Henshaw House, with a census listing their address as 1101 Adeline Street, a few blocks away from the Reed-Henshaw House.
According to Political Graveyard, "George W. Reed — of Oakland, Alameda County, Calif. Republican. Delegate to Republican National Convention from California, 1904 (Member, Credentials Committee), 1908. Burial location unknown."

Sources
Local Wiki. Accessed July 01, 2017. https://localwiki.org/oakland/Reed-Henshaw_House.

Local Wiki. Accessed July 01, 2017. https://localwiki.org/oakland/George_W._Reed.