First Professional Basketball Game Historical Marker
Introduction
This small plaque located just behind the benches for the city bus stop designates the location of the first "professional" basketball game. The title of the plaque can be misleading, however, as the athletes were not professional players, but rather the first to receive pay for playing. The game was played at the Masonic Temple Hall on November 7, 1896 and featured the Trenton YMCA against the Brooklyn YMCA. Fred Cooper, Team Captain for the Trentons, organized the game and his side won the game by the score of 15-1 with the help a paid athletes who might be considered "ringers." The game inspired other teams to pay players and within two years of this game there were professional teams and the origins of modern professional basketball leagues.
Images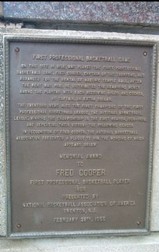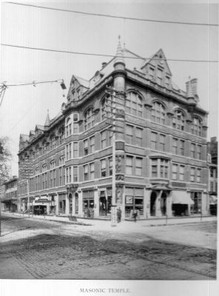 Backstory and Context
The first "professional" basketball game was played in Trenton, New Jersey on November 7, 1896. Fred Cooper was team captain for the Trenton YMCA team and he organized the event and rented the local Masonic Temple Hall for the game. Admission was charged for this game to the tune of 25 cents for a seat, and 15 cents for standing room view. After rent to the Masonic Temple was paid, Cooper paid each player $15.00. Cooper paid himself $16.00 since he was team captain, and then became the first highest paid professional basketball player by this definition of the word.

The Trentons won the game and within a few years, several teams from the Philadelphia and New Jersey areas joined together to form a league that later inspired the modern professional leagues of today. The Trentons won that league's first championship in 1899. The success of this league inspired other leagues began to form across the East Coast.

Many of the new leagues only lasted a few weeks and the National Basketball League that featured Trenton and other teams only lasted five seasons. The sport of basketball's growth can be attributed mostly to colleges who began sponsoring basketball games. Professional leagues came and went throughout the first half of the 20th century. Independent teams (known as barnstormers) had more success as they traveled around the country preforming in venues. One such barnstorming team became world-famous, the Harlem Globetrotters.

Sources
Faurschou, Bran. "The History of Basketball." NBA Hoops Online. Accessed June 30, 2017. http://www.nbahoopsonline.com/Articles/History1.html.


Nigh, Gary. "First Professional Basketball Game." The Historical Marker Database. November 18, 2007. Accessed June 18, 2017. https://www.hmdb.org/marker.asp?marker=3658.

"The History of Basketball." Timetoast.com. Accessed June 28, 2017. https://www.timetoast.com/timelines/the-history-of-basketball.
Additional Information