Statue of Kareem Abdul-Jabbar
Introduction
This statue honors Kareem Abdul-Jabbar, one of the most influential collegiate and professional athletes in American history. Known as Lew Alcindor prior to changing his name, Kareem Abdul-Jabbar played in the NBA for twenty seasons. He began his NBA career with the Milwaukee Bucks and was later traded to the Los Angeles Lakers. Known for his civil rights activism as a college athlete and his decision to join protesting athletes in the Olympic games, young Lew Alcindor was once rejected by white basketball fans. His court performance and personality won many admirers during his twenty year professional career and he became the on-court leader of the "Showtime Lakers" of the 1980s. Abdul-Jabbar and Larry Bird of the Boston Celtics played many competitive games. Their performance and personas fueled one of the greatest team rivalries in professional sports- the rivalry between the Lakers and Celtics that became the story line of many NBA Finals in the 1980s.
Images
Kareem Adbul Jabbar poses with his statue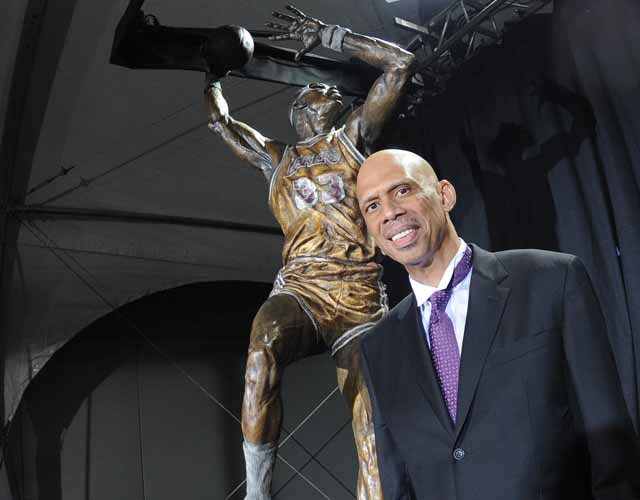 Kareem and teammate, Magic Johnson led the LA Lakers to become one of the most dominant NBA franchises of all time.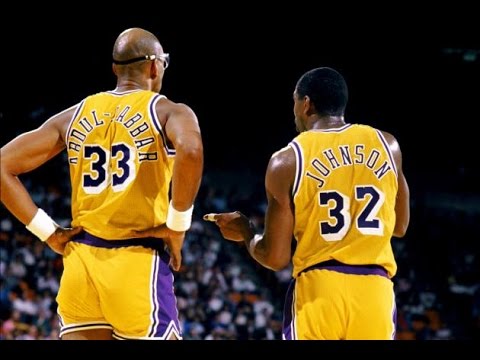 This statue of Kareem Abdul-Jabbar can be found near the main entrance of the Staples Center alongside other Lakers greats.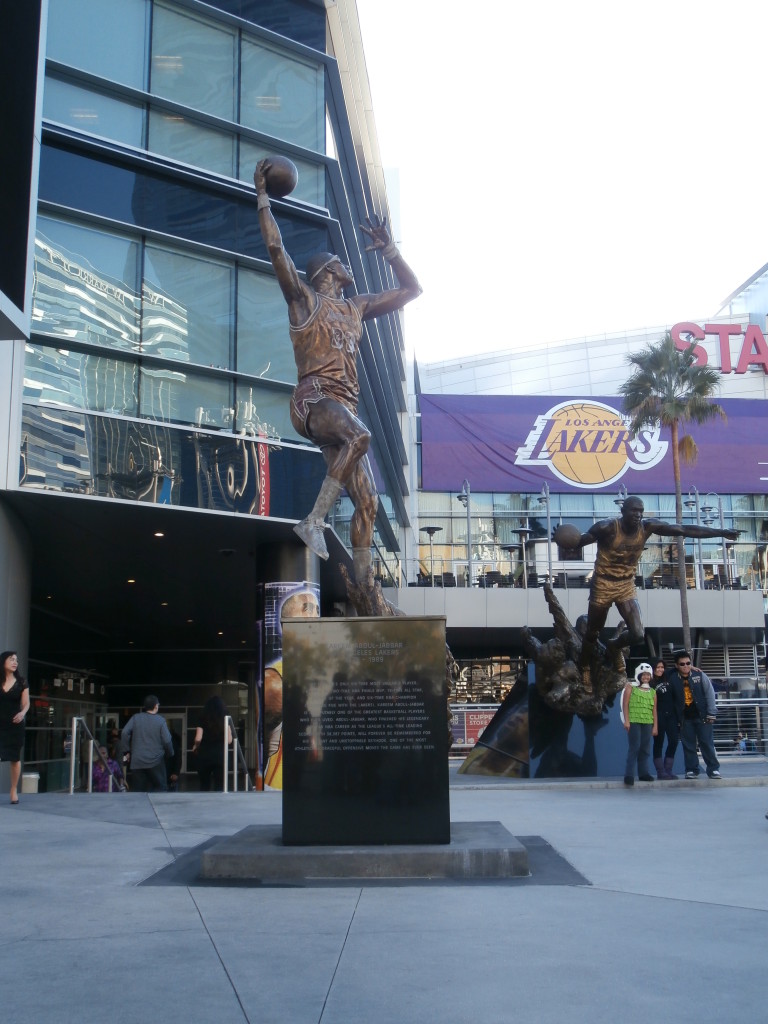 Backstory and Context
Kareem Abdul-Jabbar (born Lew Alcindor, Jr) was born in New York in 1947. Alcindor set records in college and was known for his support of the issues of the civil rights movement of the mid and late 1960s. This statue of Abdul-Jabbar was part of a ceremony that honored the legendary center on Friday, Nov. 16, 2012. With hundreds of fans looking on, the Lakers organization unveiled a statue of Kareem performing his famous "majestic skyhook" as former coach Pat Riley once called it.
Kareem Abdul-Jabbar was traded to the L.A. Lakers from the Milwaukee Bucks in 1975. The star center played fourteen more seasons before his retirement in 1989. When Kareem retired, he owned records for all-time points scored, games played, minutes played, shots made, shots attempted, blocked shots, defensive rebounds, career wins and personal fouls. Although Abdul-Jabbar retired in 1989, he still owns the record for career points scored during an NBA career with 38,387.
Kareem Abdul-Jabbar was part of six NBA Championship teams, a two-time NBA Finals MVP, six regular season MVP awards, a 19 time NBA All-Star and many more. His #33 jersey was retired by his college team, UCLA as well as the two teams he played on professionally.
During the 1980's, the Los Angeles Lakers ran an up-tempo style offense dubbed by coach Pat Riley as the "Showtime Lakers." Kareem Abdul-Jabbar and Magic Johnson were key contributors on that team and created an unstoppable amount of offense and defense. Kareem's famous skyhook shot helped his teams beat many opponents over the years and was the ultimate motivator for his statue to have the skyhook pose. Other Lakers honored by the Lakers organization are Magic Johnson, Jerry West and Shaquille O'Neal.
Sources
John Matthew Smith, Lew Alcindor and the Revolt of the Black Athlete, Journal of Sport History Volume 36 number 2, Summer 2009. p223-244

Adande, J.A. "Recognizing a truly statuesque figure." ESPN. November 17, 2012. Accessed June 25, 2017. http://www.espn.com/nba/story/_/id/8645081/los-angeles-lakers-great-kareem-abdul-jabbar-gets-statue
Knoblauch, Austin. "Kareem Abdul-Jabbar All Things Lakers." Los Angeles Times. Accessed June 25, 2017. http://projects.latimes.com/lakers/player/kareem-abdul-jabbar/.

Rhoden, William C. "Locker Room Talk: Abdul-Jabbar is the best basketball player ever - period." The Undefeated. June 14, 2017. Accessed June 25, 2017.

Additional Information