Mary Smith Home for Friendless Girls
Introduction
The origins of the Mary Smith Home for Friendless Girls start in 1875 when Mary R. Thompson married Frank M. "Borax" Smith. After reading a book by Benjamin Farjeon's Blade O' Grass about orphans in London, Mary was inspired to begin adopting a number of homeless girls. In 1901, Frank gave her between 16 acres and 34 acres to the north of their estate and they created the Mary R. Smith Trust and from this, she started the Home for Friendless Girls. The large plot of land was made up of the main office, known as "The Lodge", the community center, known as the Home Club, and a number of cottages for the girls.
Images
A shot of the house as it stands today.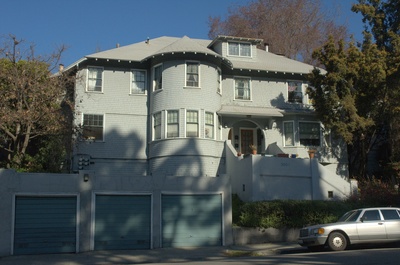 Backstory and Context
The Lodge was the central intake office for the Home and is the building pictured to the right. The building was designed by architect George W. Flick and built for $5,158 and fully furnished for $1,387.It was opened on December 6, 1902. In 1910, Jessamine Green was the secretary and lived in The Lodge with her daughter Roberta Green. On April 23, 1985, The Lodge was designated as an Oakland Landmark, and today the property is a private residence.
Another building associated with the Home was The Home Club, a building that served as a community center and central clubhouse for the Home. It was designed by architect Walter J. Matthews in 1903 and constructed at a cost of 25-$30,000 with furnishings valued at $15,000. The building was later torn down for the construction of Oakland High School. In 1910, F. H. Drake was the head of The Home Club and lived there with his family.
Throughout the rest of the grounds were a series of between 9 and 13 cottages in which many of the girls lived. A few of them remain to this day and are used as private homes. Each one was named after a younh girl known to the family: Evelyn, Florence, Grace, Josephine, Lila, Mae, and Marion. Each cottage had its own endowment fund, and was run semi-independently by a house "mother".
Sources
May Smith Home for Friendless Girls. Local Wiki. Accessed June 25, 2017. https://localwiki.org/oakland/Mary_Smith_Home_for_Friendless_Girls.

Mary R. Smith. Local Wiki. Accessed June 25, 2017. https://localwiki.org/oakland/Mary_R._Smith.