Jack London House
Introduction
Built in 1890, the Jack London House was designed in the Queen Anne-style. Novelist Jack London rented the house with his mother from 1898-1900, and although they lived in many different houses, this was has become eponymous with the writer as it is where he wrote his first book, The Son of The Wolf, a collection of stories from the Klondike Gold Rush. Because of this it has become a local attraction and was designated as an Oakland Landmark in 1977.
Images
A Black and white photo of the Jack London House.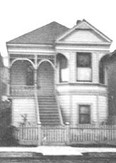 A portrait photograph of Jack London.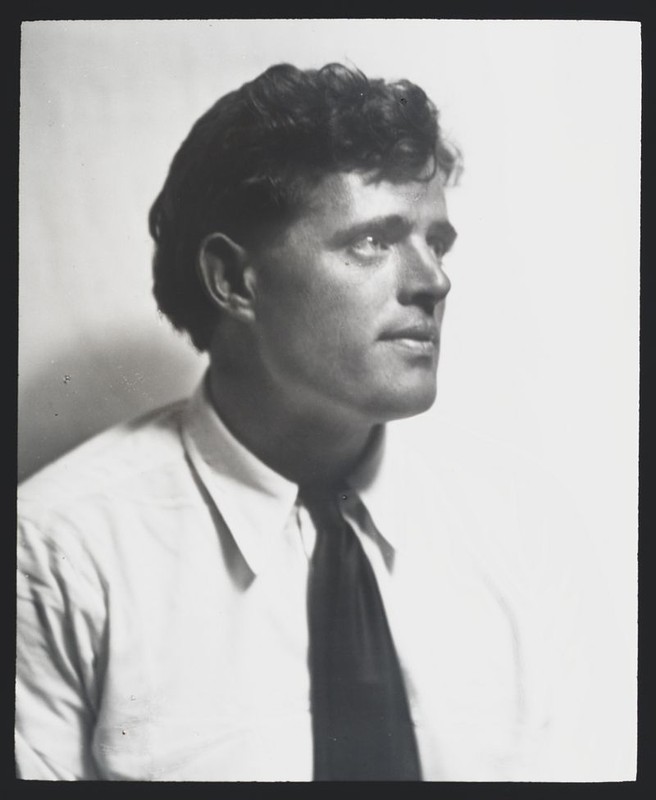 Backstory and Context
John Griffith London, known as Jack, was born on 22nd November 1876. By the age of 30, Jack had become an internationally renowned author with his book Call of the Wild, The Sea Wolf, and many other literary works.
He grew up in San Francisco, but his family home burned down during the Great Earthquake of 1906. From a young age, he surrounded himself with literature, reading the Victorian novel Signa at the age of 9, something which he credited with his later success. As a young boy he made his way to the Oakland Public Library where he met Ina Coolbrit, who would later become the state's first poet laureate.
At the age of just 13, he worked 12-18 a day for a Cannery company. He needed to find a way out, so he borrowed money from his foster mother, Virginia Prentiss, and purchased an old sailing ship from a pirate known as French Frank. He sailed the seas on his new boat for several months, before it became too damaged and he was forced to return to land. He then became part of the California Fish Patrol and worked on various ships before returning to Oakland to attend High School where he would write about his ocean adventures.
As he progressed through high school he realised that he wanted to pursue a career in writing and attend the University of Berkeley. He did manage to make it to Berkeley but was forced to leave in 1897 due to a lack of finances so he never managed to graduate. The same year he and his brother-in-law set sail to take part in the Klondike Gold Rush, which would later become an influence in London's writings. Like many of the would-be prospectors, London developed scurvy and lost some of his teeth, leaving him with marks on his face as a constant reminder of the Klondike struggle. His short story, To Build a Fire, was written about his time here.
His trip to the Yukon was ultimately unsuccessful and on his return to Oakland, London began to see his writings as a business and a way for him to escape poverty. He was able to get his story, To the Man On Trail, published, although he received a measly five dollars for it. This lack of success made London question his abilities and he considered abandoning his craft. Fortunately, he was able to sell his story, A Thousand Deaths, for $40, saving his burgeoning career. In the year 1900, he had an income of $2,500 from writing, which is about $75,000 in today's money.
In 1903 he sold The Call of the Wild for $750 to The Saturday Evening Post and sold the rights to Macmillan for $2,000, whose capital pushed the story to success. A year later he was working as a war correspondent for the San Francisco Examiner during the Russo-Japanese War of 1904.
London purchased a 1,000 acres ranch in 1905 for $26,450, writing of his new property, "
Next to my wife, the ranch is the dearest thing in the world to me." His dream was to turn the ranch into a succesful business, and his writings became aimed towards fuelling this goal. Sadly, his ranch was never successful, with some historians blaming a mix of poor management and London's growing alcoholism. He
spent $80,000 on a 15,000-square-foot stone mansion called Wolf House, but just weeks before it was completed a fire destroyed the whole building.
London died on his ranch on November 22, 1916 at the age of 31. London had suffered from many illnesses throughout his life of travel and upon his death suffered from dysentry, urea, and severe alcoholism. He was also taking morphine for his pains. There is a debate as to whether or not London committed suicide, with many early sources suggesting he might have overdosed on morphine - although this appears to be a rumour.
Sources
Jack London House. Local Wiki. Accessed June 22, 2017. https://localwiki.org/oakland/Jack_London_House.

About Jack London. Jack London Park. Accessed June 22, 2017. http://jacklondonpark.com/jack-london-biography.html.

Additional Information