Site of World's First Drive-In Movie Theatre
Introduction
The world's first drive-in movie theatre opened on June 6, 1933 on Admiral Wilson Boulevard in Pennsauken Township, NJ, near Central Airport. The theatre was the inspiration of Richard M. Hollingshead, a Camden businessman living in Riverton, NJ, who received a patent for the idea. With a few investors, Park-In Theatres, Inc. was formed and construction of the theatre began on May 16, 1933. The first drive-in operated for only a few seasons before the difficulty of obtaining current, quality films to show led Hollingshead to focus his efforts on licensing the drive-in theatre concept to other operators. Today, parking lots and Zinman Furs occupy most of the location of the original drive-in.
Images
World's first drive-in movie theatre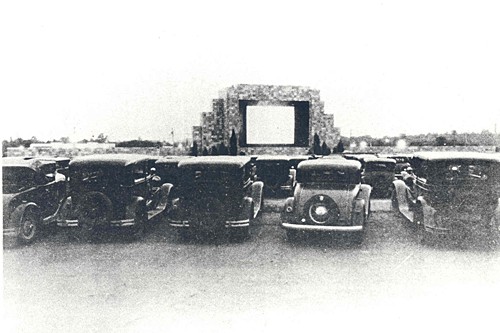 Ad for premiere of drive-in theatre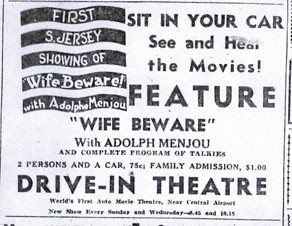 Aerial photo showing first drive-in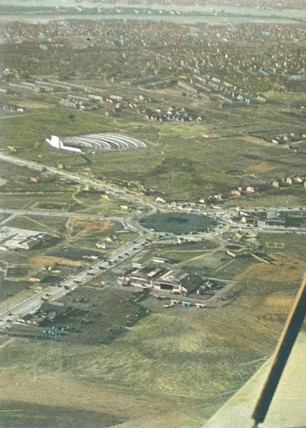 World's first drive-in movie theatre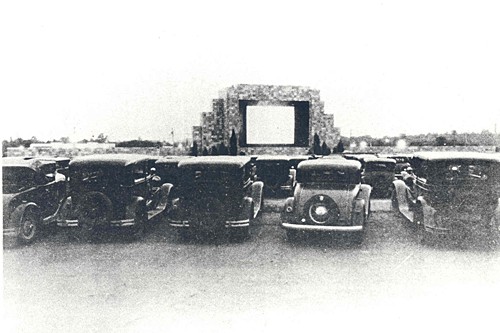 Ad for premiere of drive-in theatre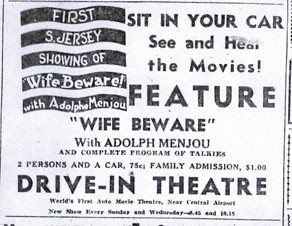 Aerial photo showing first drive-in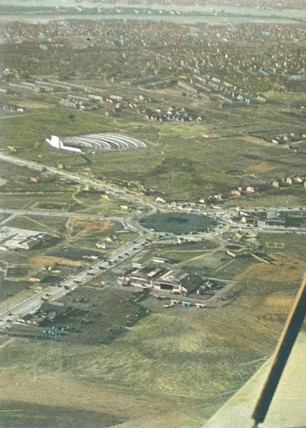 Backstory and Context
The mother-in-law of Camden, NJ, businessman Richard M. Hollingshead, Jr. was an ample woman who found traditionally narrow seats in movie theatres of her time to be uncomfortable. She mentioned to Hollingshead that she would enjoy movies much more if seats were wide, like the couch-like automobile seats of the day. Consideration of this problem led Hollingshead first to experiment with showing a movie in his own driveway in Riverton, NJ, with his family seated comfortably in his car, and then, to invent an American popular cultural icon: the drive-in movie theatre.
Having worked-out the details of a theatre based on the American love of the automobile, and having taken out a patent on the idea and formed a corporation along with a few friends and relatives as investors, Hollingshead saw his vision become reality on the north side of Admiral Wilson Boulevard near Central Airport and its recently developed entertainment district, not too far from the family business, R.M. Hollingshead Corporation in Camden. The theatre opened on June 6, 1933, with the feature film "Wives Beware" starring Adolph Menjou. The film was more than a year old and generally forgettable if not worse, and this was symptomatic of a problem that would continue: the film distributors favored their relationships with the established theatres over this new novelty and were hesitant to release quality, first-run films to drive-ins.
After a few seasons of operations, the first drive-in theatre, located in Pennsauken Township but often called the "Camden Drive-In" because of its proximity and target audience, ceased operations in favor of increased efforts to make profits by licensing the concept to other potential operators. In the end, this effort was also unsuccessful due to technical legal challenges to the original patent, which was eventually rescinded.
Sources


Sanders, Don and Susan, The American Drive In Movie Theatre, Crestline, 2013
Segrave, Kerry, Drive In Theaters: A History from their Inception in 1933, McFarland & Co., 2006.
US Patent Office, No. 1,909,537, filed August 6, 1932, Drive-In Theater, Richard M. Hollingshead, Jr.
Darrow, Chuck, "Riverton Man Opened First Auto Theater in Pennsauken in 1933," Courier-Post, June 5, 2003