Lower Courthouse Park
Introduction
This park was one of the very first and at the time rare commitments to open spaces in Janesville. Created around the 1830s, before the Nolen plan was implemented, the Lower Courthouse Park was taken up by the Rock County Courthouse and decreased over time from the original acres attributed to it, as space was needed for more city development in the 19th century. Between the 1830s and 1920s, only seventeen acres would be added to the park development in Janesville.
Images
Photo of George King, a Janesville Druggist, in the Lower Courthouse Park. Circa early 1900s.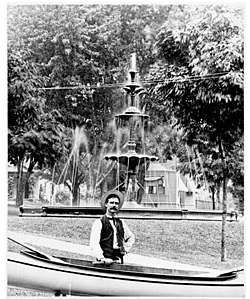 Backstory and Context
Today this park is a very popular central location in Janesville. It makes a great location for events and activities for the members of the community. An important feature is the modern amphitheater in the park that hosts many concerts and events. The old iron fountain is no longer in this park.