Drumthwacket
Introduction
Built in 1835 by Charles Smith Olden and listed on the National Register of Historic Places, Drumthwacket has been the official governor's residence in New Jersey since 1982. Its name is a Scottish-Gaelic word that means "wooded hill." Smith chose it after seeing the word in a novel by Sir Walter Scott titled, "A Legend (of the Wars) of Montrose," which was published in 1819. The mansion today is a larger expansion of the original house that Smith built. The estate features gardens, walking paths, and outbuildings. The governor and family live in several rooms on the second floor and some of the rooms on the first are used for public functions. The mansion also offers changing exhibits about the history of the house.
Images
Drumthwacket was built in 1835 by Charles Smith Olden and later expanded in 1893. It has been the official New Jersey governor's residence since 1982.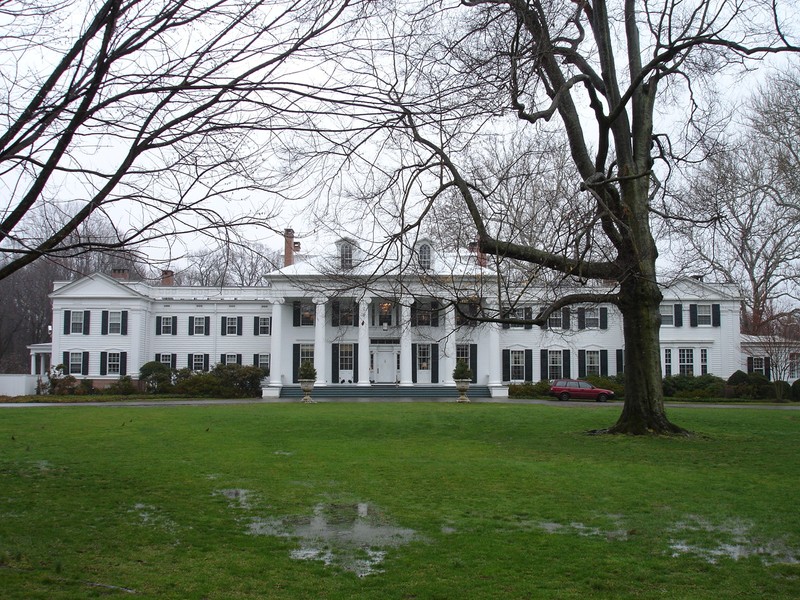 Backstory and Context
Charles Smith Olden was the grandson of William Olden, who bought the property from William Penn, the founder of the Pennsylvania colony. Charles was born in a small house on the property in 1799. He became a businessman, earning a substantial amount of money in Philadelphia and New Orleans (he also inherited money from his uncle). He eventually returned to New Jersey and built the original part of the mansion. Charles was served as a trustee of the College of New Jersey (the predecessor of Princeton), became a state senator (1844-1850), and served a term as governor from 1860-1864. One of the mansion's owners, Moses Taylor Payne, expanded the house (and developed the grounds) to its current appearance after they bought it in 1893. In 1941, the founder of the International Latex Corporation, which is now called Playtex, bought the mansion. He sold it in 1966 to the state to be used as the governor's residence, but this did not occur until 1982 after enough funds were raised to renovate the house and grounds.

Sources
Greiff, Constance. "Olden-Pyne Houses." National Park Service - National Register of Historic Places Nomination Form. June 10, 1975. https://npgallery.nps.gov/GetAsset/d5c9e914-cc16-4fcd-ba9c-b55d73498a6d.

"The History of Drumthwacket." Drumthwacket. Accessed June 19, 2017. http://www.drumthwacket.org/full-history-document.

Photo: Kforce, via Wikimedia Commons
Additional Information