Henry J. Kaiser Convention Center (Oakland Auditorium)
Introduction
The Henry J. Kaiser Convention Center (formerly, the Oakland Auditorium, aka the Oakland Municipal Auditorium) is a 1915 Beaux-Arts-style building. The building was designed by architects John J. Donovan and Henry Hornbostel (who also worked on the design of City Hall) and built under the supervision of Commissioner of Public Works, Harry S. Anderson. Located next to Lake Merritt, the Kaiser Convention Center is a historic, publicly owned multi-purpose arena with 5,492 seats as well as a large theater, and a large ballroom. It is listed on the Oakland list of Historic Landmarks.
Images
An old postcard of the Convention Center.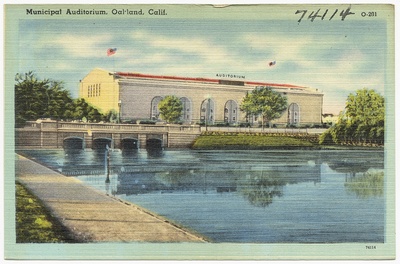 A shot of the Center in 1917.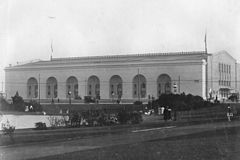 Elvis backstage at the Center in 1956.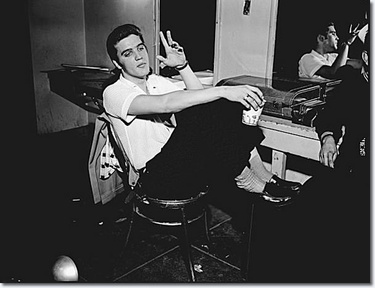 A shot of the Center today.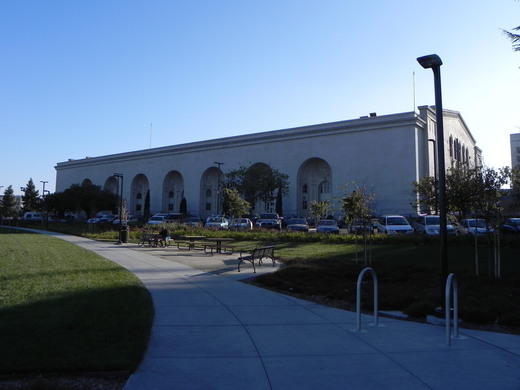 Backstory and Context
The Kaiser Convention Center was built in the beaux-arts style in 1914 by architect John J. Donovan. It was originally known as the Oakland Civic Auditorium but renamed in honor of Henry J. Kaiser in 1984. The facility was owned by the City of Oakland until 2011, when it was sold to the local redevelopment agency for $28 million. However, this agency was dissolved by the State of California in 2012, so ownership reverted to the city of Oakland.
Until 1941, Kaiser Arena hosted the Ringling Brothers and Barnum and Bailey Circus which afterwards moved to the Civic Auditorium in San Francisco. Other notable events include the Roller Derby, the annual Christmas pageant, the Oakland Symphony Orchestra as well as the Oakland Skates roller hockey team.
On November 30, 1979, Bob Marley and the Wailers played at the Oakland Auditorium on the Survival Tour. From 1967 through 1989, the Grateful Dead performed at the Convention Center 57 times. Elvis Presley performed at the Convention Center on June 3, 1956 and again on October 27, 1957. And on December 28, 1962, Martin Luther King Jr. spoke to an audience of around 7,000 people at the auditorium to mark the 100th anniversary of the Emancipation Proclamation.
The building has been in disuse since 2004 when the city closed it due to making a loss of $500,000 a year running the place. A 2006 ballot measure to convert the facility to a new main branch of the library was narrowly defeated and the city looked to sell the building on. Orton Development Inc have been given the go-ahead to take over the property after a successful $52 million dollar proposal. Redevelopment is still a way off though and it isn't expected to open until at least 2018.
Sources
Henry J. Kaiser Convention Center. Local Wiki. https://localwiki.org/oakland/Henry_J._Kaiser_Convention_Center.

Hedin, Mark. Oakland: Kaiser center poised for a comeback. Mercury News. April 08, 2016. Accessed June 18, 2017. http://www.mercurynews.com/2016/04/08/oakland-kaiser-center-poised-for-a-comeback/.

Kaiser Convention Center. Atlas Obscura. Accessed June 18, 2017. http://www.atlasobscura.com/places/kaiser-convention-center.


Additional Information