Steamship William G. Mather
Introduction
Now part of the Great Lakes Science Center, the Steamship William G. Mather was built during the golden years of American lakes steamboats. As the flagship for the Cleveland Cliffs Iron Company, she was state-of-the-art with respect to capacity, power, and accommodations. During her 55-year career, she carried millions of tons of iron ore, coal, grain, and distinguished guests, and was nicknamed "The Ship That Built Cleveland" because Cleveland's steel mills were a frequent destination. In 1941 the Mather led a convoy of 13 freighters through the ice-choked upper Great Lakes to Duluth, Minnesota, to begin supplying badly needed iron ore to U.S. steel mills as they geared up to support President Roosevelt's pledge that America would be the "Arsenal of Democracy" prior to our entry into World War II. The trip set a record for the earliest arrival of a bulk carrier in a northern port. This heroic effort was featured in the April 28, 1941 issue of Life magazine. Retired from service in 1980, Mather underwent an extensive restoration program beginning in 1987 and was opened for public tours in Cleveland's Northcoast Harbor in 1991. In 1995 the American Society of Mechanical Engineers conferred Historic Engineering Landmark status on Mather for the following technological Great Lakes firsts: single marine boiler system, boiler automation, and dual bow thruster system. Visitors can discover what life was like aboard a Great Lakes freighter as they tour this restored 618-foot historic flagship from stem to stern and see its huge cargo holds, brass and oak pilot house, elegant guest quarters and four-story engine room.
Images
Steamship William G. Mather was built in 1925 and sailed the Great Lakes for 55 years.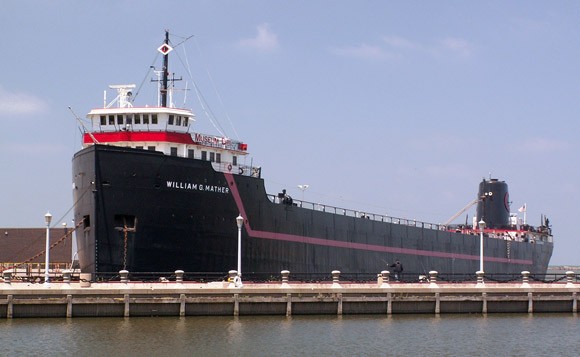 Backstory and Context
When the Steamship William G. Mather was built in 1925 by Great Lakes Engineering Works in Ecorse, Michigan, she was considered the latest word in ship design, propulsion, navigation equipment, and crew accommodations. She was the flagship of The Cleveland-Cliffs Steamship Company fleet until 1952.
Cargo
The Mather left the shipyard on July 24, 1925, for Ashtabula, Ohio, to load her first cargo, coal, for delivery to Lakehead, Ontario, Canada. The Mather's principal trade pattern was iron ore from the Lake Superior region delivered to steel mills in lower lake cities such as Cleveland. Sometimes she backhauled coal from a Lake Erie port to a Lake Superior port.
From loading docks built higher than the vessels they service, cargo flows by gravity into a ship's cargo spaces. Cargo flowed into the Mather's four holds through the eighteen hatches on her spar deck. Unlike numerous self-unloading vessels (ships equipped with powered belts and booms to discharge cargo) now plying the lakes, theMather possesses no unloading equipment. She relied on shore machinery for unloading. At many lower lake destinations, iron ore was unloaded by giant grasshopper-like Hulett unloaders. No longer necessary because of the increase in self-unloaders, much unloading machinery has been dismantled. Though disassembled, two Hulett unloaders can still be found on Whiskey Island in Cleveland, Ohio. Efforts are being made to preserve them as part of the Great Lakes heritage.
Engines
As built in 1925, the William G. Mather was powered by a four-cylinder quadruple expansion reciprocating engine of 2,300 horsepower. Steam was produced in coal-fired boilers. The ship was repowered in 1954 with a cross-compound steam turbine that developed 5,000 horsepower. The boiler is now fueled by oil. The system was designated as a historic landmark in 1995 by the American Society of Mechanical Engineers.
In 1964, the Mather became the first Great Lakes vessel to have fully automated boiler controls which were developed and produced by Bailey Meter. They were monitored and operated by the engineer on watch from an engine room console. The installation was so successful that Cleveland-Cliffs made similar modifications on its other ships, and other shipping companies undertook similar projects. This is also a part of the historic landmark designation.
The Mather also received a bow thruster in 1964. This is a reversible propeller near the bow that forces water to one side of the ship or the other, thus moving the ship's bow. A bow thruster increases maneuverability and reduces the need for tugboat assistance. Once again, this is also a part of the historic landmark designation.
Crew
Originally, the Steamship William G. Mather was designed to accommodate a crew of 38 plus the captain. In her later years, the switch to oil fuel, engine room automation, changes in the maritime requirements, and economics reduced the Mather's crew to 29 in 1964.
Ships' crews are grouped into three departments: deck, engine, and galley. The captain (or master), although officially in the deck department, is at all times responsible for the safety of the vessel, crew, and cargo. The deck department handles navigation, loading, and unloading. The deck crew includes mates, wheelsmen, watchmen, and deckhands.
The engine department maintains the ship's engines and other machinery. Engineers, oilers, and wipers make up the engine department. Most members of deck and engine departments on the Great Lakes stand watches. That is, they work four hours and have the next eight hours off, around the clock.
All these people depend upon the galley department to prepare and serve three meals a day and provide clean linen. The galley department includes the steward, second cook, and porter(s).
End of Career
Over the years, the number of self-unloaders grew. New 1,000 foot long ships dwarfed 600-footers like the Mather. Economics and changes in ore-carrying contracts caused the Mather's usefulness to dwindle. After 55 years of operation, at the end of the 1980 season, Cleveland-Cliffs permanently laid up the Mather in Toledo, Ohio.
In 1985, Cleveland-Cliffs sold its two remaining operating steamships to Rouge Steel Company, and gradually sold off its idle vessels until only one remained. In December 1987, the Steamship William G. Mather, the last vessel owned by Cleveland-Cliffs Inc. (Formerly Cleveland-Cliffs Steamship Company) was donated to The Great Lakes Historical Society.
Restoration
The Great Lakes Historical Society began preparations for the Mather's new career as a museum ship. After she was brought to Cleveland and funding acquired, restoration began. In October 1990, she was moved to her permanent berth at the East Ninth Street Pier, and work continued.
Fire damage to the Mather's galley and after-cabin spaces required a major restoration effort. All over the vessel, most of the elbow grease was supplied by volunteers who repaired, cleaned, chipped, and painted in order to restore the Mather to her former elegance.
Future
On July 22, 1995, the Steamship William G. Mather Museum was acquired by the Harbor Heritage Society, a newly-formed nonprofit corporation organized to preserve and develop the Mather as a maritime museum and lakefront attraction at its East Ninth Street Pier location.
Great Lakes Science Center and the Steamship William G. Mather are linked by the Cleveland – Cliffs Connector, which is the first phase of an eventual plan to make the Mather a year-round attraction. A grant funded by the Ohio & Erie Canal Commission allowed the Mather to produce new signage and graphic panels to tell the fascinating history of this unique maritime museum. Future plans include new exhibits, hands-on displays and special programming.
Sources
"Steamship William G. Mather Maritime Museum." Case Western Reserve University Encyclopedia of Cleveland History. Accessed May 16, 2014. https://case.edu/ech/articles/s/steamship-william-g-mather-museum.

"SS William G. Mather." Historic Naval Ships Association. Accessed May 16, 2014. https://archive.hnsa.org/ships/mather.htm.

Additional Information