Historical Marker: Bickur Cholim (First Jewish Congregation)
Introduction
In 1861, San Jose's first Jewish congregation, Bickur Cholim (Hebrew for "visiting the sick"), was established and eventually built its temple at this location in 1870. Unfortunately, a fire destroyed the temple in 1940 but the Torah, the Ner Tamid (eternal lamp), and stained glass windows were saved. They are now located at the new temple, which was built in 1948; the congregation renamed itself Temple Emanu-El.
Images
The city's first Jewish temple was built here in 1870.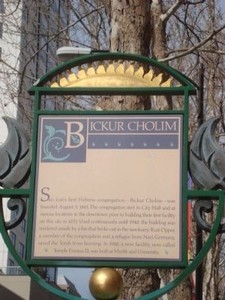 The fire that destroyed the original temple in 1940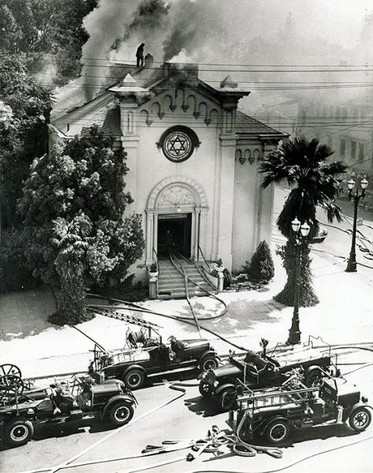 Backstory and Context
San Jose's first Jewish synagogue was established in 1861 at Bickur Cholim, which means "visiting the sick." The congregation was dedicated to helping the needy and sick and assisting with burials. In its early days, the congregation met in Old City Hall as well the Masonic Hall.The congregation's first building, located at the corner of Third and San Antonio Streets, was dedicated in 1870.

The congregation's first ordained rabbi was Myer Sol Levy, who arrived in 1873 and served until 1881. For the remainder of the 1800s into the early 1900s, the congregation had numerous rabbis, most of whom had short tenures, and there were a few periods when the synagogue had no rabbi at all. For most of the Great Depression, the congregation was without a rabbi, and did not hire another rabbi until 1939.

In 1940, the synagogue burned to the ground. Only a few items were saved, including the Torah. When the current building was dedicated in 1948, the Torah and other items that were saved from the fire were moved to the new University Avenue location. The new temple was renamed Temple Emanu-El.
Sources
"Bickur Cholim." The Historical Marker Database. Accessed June 7, 2017. https://www.hmdb.org/marker.asp?marker=52655.

"Our Roots." Temple Emanu-El. Accessed June 7, 2017. https://templesanjose.org/roots#.

Photo: Barry Swackhamer, via the Historical Marker DatabaseWeissbach, Lee Shai. Jewish Life in Small-Town America: A History. New Haven, Connecticut. Yale University Press, 2008. pgs. 207-208