Stone Row
Introduction
S side of E New St, between King and Princess Sts. The long two-story building has been called Stone Row for generations. Built in the early 1790s, it began as Philip Shutt's Brewhouse. Irish workingmen building the C&O Canal in the 1830s enjoyed "Shutt's Cream Beer."
Images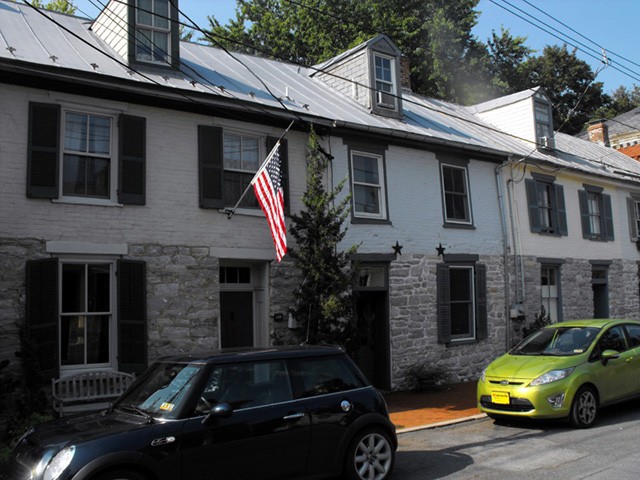 Backstory and Context
Stone Row was originally built by Philip Shutt in 1792 as a brewhouse. He built his building next to town run, "All good beer requires good water, and spring water is especially prized. Shutt's Cream Beer soon became popular with locals, and later with Irish laborers who helped build the Chesapeake and Ohio Canal during the early 1830s."[1] Shutt lists at least one or two slaves in the census records along with a few large animals. Shutt was active in the town as an elder for St. Peter's Lutheran Church and on the Court of Trustees for the town.
In the 1830s, the Brew House started to decline and the building was transformed into separate houses and a second story was added. This is when it got the name "Stone Row." Walter Washington recently restored Stone Row; he purchased the building in 1987 and restored it until 1991. The building originally was one long structure with two small buildings behind. It became four separate town homes. The brick second story was added in the 1830s and at some point the out buildings were added to the main structure. In the 1900s, each house had added a front stoop and porch. "Before 1950, the exterior was covered with paint or stucco, … the stucco was removed in the 1970s."[2]
Sources
Briod, Marc. The Colorful History of Stone Row on New Street. Historic Shepherdstown and Museum. Accessed July 31, 2017. http://historicshepherdstown.com/2016/11/the-colorful-history-of-stone-row-on-new-street/.


Additional Information