Mellwood Art Center
Introduction
An active entertainment center with artist studios for rent, shops, cafés and three spacious special event rooms, Mellwood Art Center opened in 2002. The complex features free parking, art classes, dance, galleries and more. One of the largest in the country, the complex is 360,000 square feet.
Images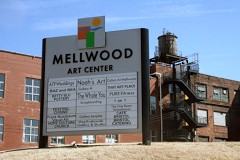 Backstory and Context
• Studio, retail, gallery and office spaces are all for rent. Interested individuals can choose from a variety of sizes to use for work, socializing or as a classroom. The complex is expanding and more space should be available in 2013 and/or 2014.
• Large event rooms are available for weddings, fundraisers, exhibitions and festivals. With parking, a catering kitchen and indoor as well as outdoor areas, there is a space available, whatever your group size is.
• Classes, art crawls and social events happen throughout the year at Mellwood, but each fall is the September Art Fair, a juried event featuring close to 200 artisans.
Art Galleries Are Open All Year:
Home to over 200 artist studios, there is plenty of art to see at Mellwood. Walking through, many artisans have an open door policy and have set up their work places to double as shops and galleries. There are also three more traditional galleries within the complex.
1. Gallery M
Located at the main entrance, Gallery M sells contemporary art. Featuring both art from within the Mellwood community and work made by outside artists, Gallery M kept industrial elements of the building intact. The space is a comfortable contrast between the history of the building and the current aesthetic of contemporary art.
2. The Bridge Gallery
Walking into Mellwood, a glass wall above the courtyard entices visitors to the Bridge Gallery. Located on the second floor, the Bridge Gallery connects two buildings in a dynamic and interesting way. The exhibition space is a destination in itself, but doubles as a walkway between the artist studios and event spaces of two separate buildings.
3. The Pigment Gallery
The center's first gallery, Pigment exhibits folk art, juried shows, Mellwood artists and outside artists. New exhibitions are installed every two months; the gallery is located on the main floor.
What It Was Before It Was Mellwood Arts Center:
The Mellwood Arts and Entertainment Center was once a bacon factory. Originally built by the Fischer Meat Packing Company in 1904, the building was expanded through the 20s, 30s and 1950s. Black-and-white photographs near the main entrance of the art center illustrate the building's industrial past.

Where Is It:
The Mellwood Arts and Entertainment Center is located at 1860 Mellwood Avenue.
Sources
About.Com. "Mellwood Art Center." Accessed May 15, 2014. http://louisville.about.com/od/artsculture/p/Profile-Of-Mellwood-Art-Center.htm.
Additional Information