George Donner, Jr. Gravesite
Introduction
This burial site is where George Donner, Jr., one of the members of the ill-fated Donner Party, is laid to rest. His uncle George, and another man named James Reed, organized their families and employees to travel westward in the 19th century like so many others seeking a new life in the American West. George Jr. was one of three siblings to survive; the others were his sister Mary and half-brother Solomon. George Jr.'s son Albert is buried next to him, and Mary is interred nearby. George Jr. married and had eight children. He passed away at the young age of 37 in 1874.
Images
The gravesite of George Donner, Jr.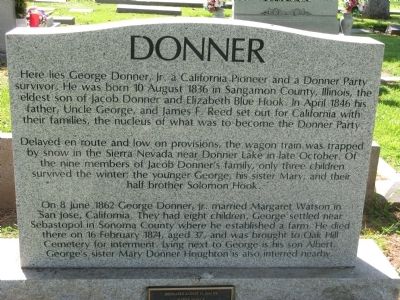 Backstory and Context
The story of the tragic Donner Party is well-known. A large group of more than 80 settlers set out for California in 1846. Poor leadership, personal disputes, and bad luck caused numerous problems along the way, with many delays.

The party reached the Sierra Nevada Mountains in the fall of 1846. Early snows and the onset of winter and were forced to encamp in what is now Truckee, Nevada and near a lake now named after the party (Donner Lake). The immense amount of snowfall—22 feet—made traveling impossible. The weather, low supplies, and lack of food for pack animals forced members of the party to resort to cannibalism.

Roughly half of the Donner Party died in the mountain, including George Donner. The first rescue party took George Donner's children to safety, but left George, whose arm was gangrenous following an injury. When the rescue party returned, he was too weak to travel, and when a third rescue party arrived at the camp, Donner was already dead. He was buried at Oak Hill Cemetery.


Sources
"George Donner, Jr. Gravesite." The Historical Marker Database. Accessed June 2, 2017.
Photo: Syd Whittle, via the Historical Marker DatabaseThe Tragic Fate of the Donner Party, 1847. EyeWitness to History,. Accessed June 02, 2017. http://www.eyewitnesstohistory.com/donnerparty.htm.


Additional Information