St. Philip's Episcopal Church
Introduction
This chuch stands right in the middle of historic Charleston, SC. It is steeped in rich colonial history as well as beautiful architectural history. It is home to the oldest church congregation in the South. It is also Narional Historic Landmark as of 1973.
Images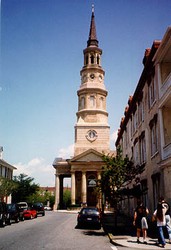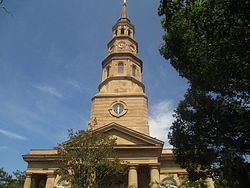 early photo of the chuch, circa 1910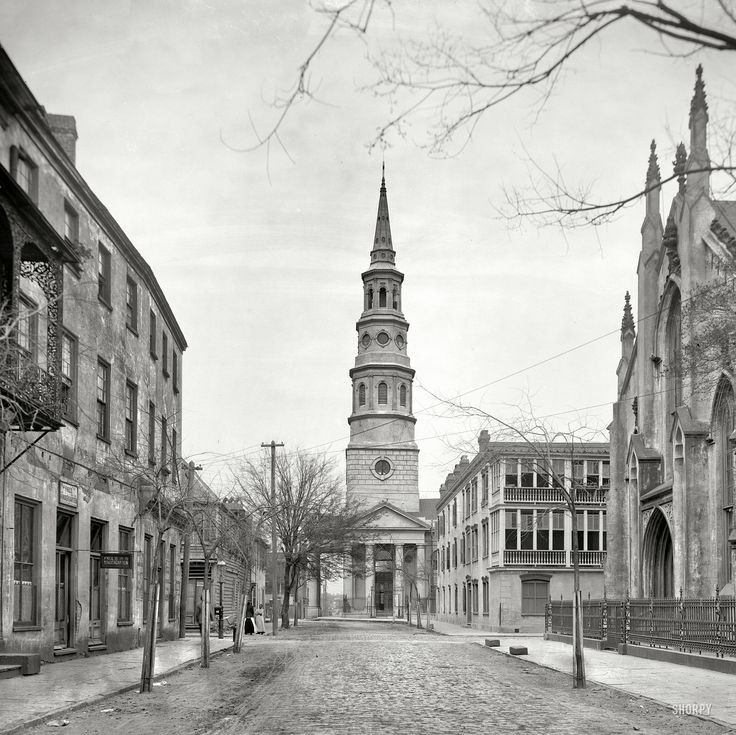 Backstory and Context
St. Philip's Episcopal Church, a National Historic Landmark, is the first Anglican Church to be constructed south of Virginia in 1680. It also houses the oldest congregation in the South however this claim is debated among several scholars. It is the third building that the church and congregation called home. The first two burned down. The most recent site was constructed from 1835-1838. The steeple would be completely finished by 1850. The designer of the church Joseph Hyde implemented Tuscan, Roman, and Corinthian elements to the building. He also situated into the center of Church Street dividing the street in two. The bells that toll everyday were not the original bells. The original bells were donated to the Confederacy during the Civil War. They were melted down and re-casted as weapons and ammunition. A women's group raised funds to have bells placed back in the steeple in 1976.
The church has two graveyards. There is an East graveyard and the West graveyard. The East graveyard was set aside for native people and the West was called the "strangers graveyard" for strangers and transient white persons. However the latter is no longer in effect. There are several prominent people buried in the Church's graveyard. Charles Pinckney a signer and co-author if the Constitution, Edward Rutledge signer of the Declaration of Independence, and John C. Calhoun former Vice President and Secretary of State are all buried there. Calhoun was actually buried three different times. He was moved to an unmarked grave out of fear that the Union would desecrate him.
The church would suffer a lot of damage from natural disasters throughout its past. The current St. Philip's remained intact through fires, a hurricane in 1710, a record setting Earthquake in 1886, a Tornado in 1939, and another hurricane, Hurricane Hugo in 1989. St Philip's has also endured through non-natural forces. Its steeple was a victim of Union Army shelling during the Civil War. That same steeple helped guide ships into the Harbor from 1893-1915.
St. Philip's church remains a central focal point of Charleston, SC. It stands high above many of the other buildings on the aptly named Church Street. Aside from the historic Rainbow Row it is one of most photographed place in Charleston.
Sources
http://www.stphilipschurchsc.org/our-history
Additional Information