Saint Mary of Victories Catholic Church
Introduction
Saint Mary of Victories is a historic Catholic church in downtown St. Louis. The second oldest church in St. Louis, Saint Mary of Victories was established in 1843 to service the area's growing number of German Catholic immigrants. It is home to over 280 relics, including alleged items from the crucifixion of Jesus. In the 1950s the church was turned over to Hungarian Catholics, many of whom fled from the Hungarian Revolution. Today the church has been designated a chapel and still continues to hold regular mass services.
Images
St. Mary of Victories today. Image obtained from Rome of the West.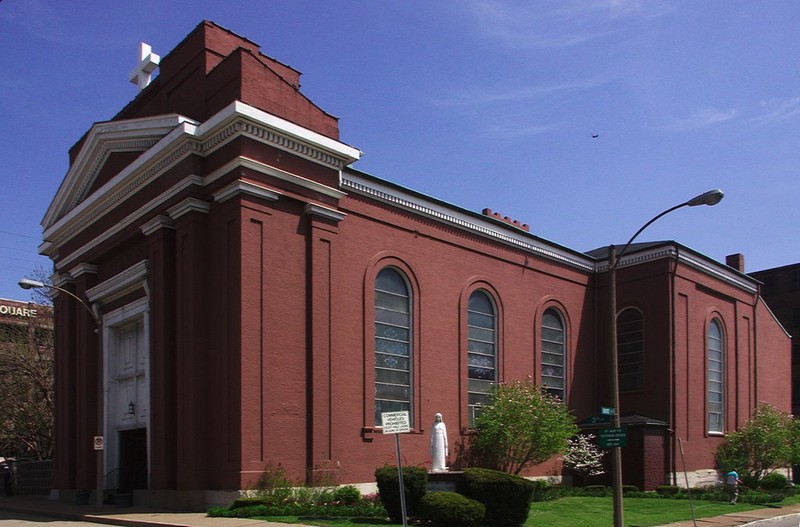 Sanctuary of the church. Image obtained from St. Louis Public Radio.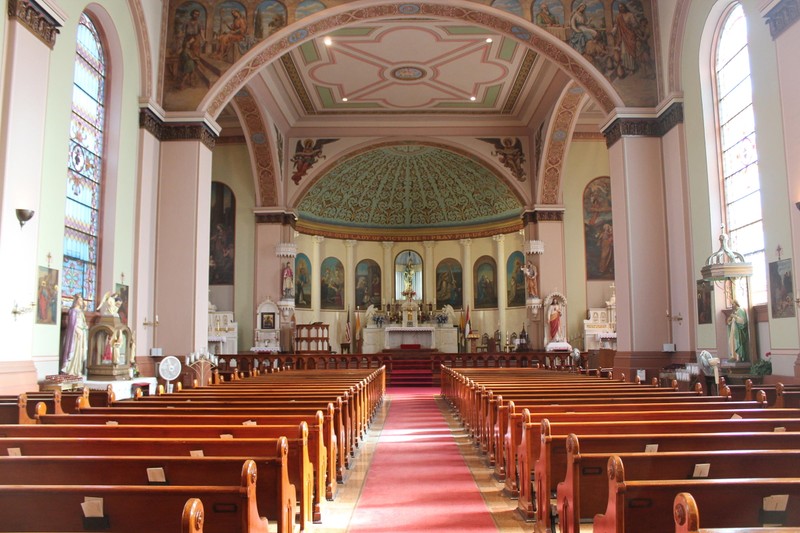 The interior of St. Mary of Victories contains many elaborate works of art such as mosaics and statues. Image obtained from St. Mary of Victories Catholic Church.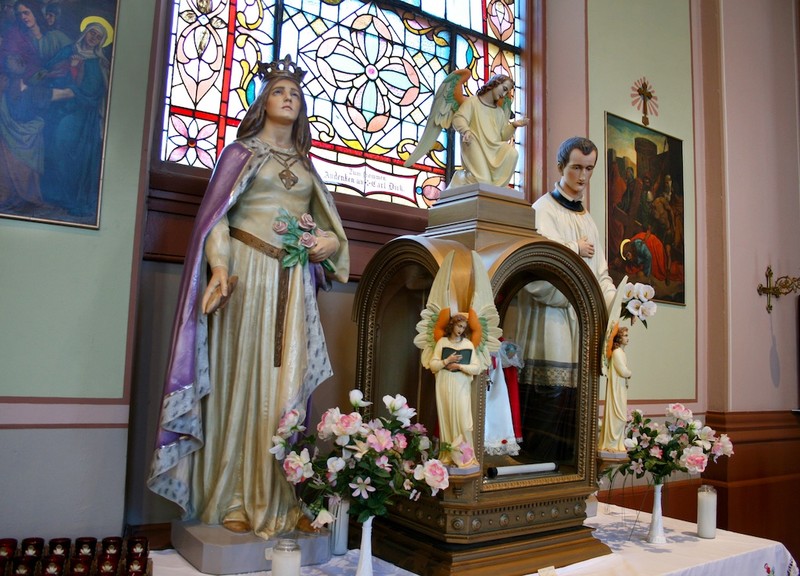 Backstory and Context
In the 1840s large numbers of German Catholic immigrants were moving to the St. Louis area; by 1843 they numbered around 6,000. That year Bishop Peter Richard Kenrick organized the creation of a Catholic church specifically for German immigrants. Construction began in 1843 but was delayed by financial problems; it was completed on September 15, 1844 in part thanks to donations from the Leopoldine Society of Vienna. Designed by George Barnett and Franz Saler, the church incorporated elements of Neoclassical and Egyptian Revival architecture. Renovations in 1860 added a belfry and transept to the church. It was only the second Catholic Church in St. Louis, following the Basilica of St. Louis. The unusual name "Saint Mary of Victories" was chosen in honor of a series of Christian victories against the Ottoman Empire in the 1500s, which were credited to the Virgin Mary. Services were conducted in German, and a parish school was opened to teach students in German as well.
In 1872 a group of six German nuns known as the Sisters of St. Mary (later the Franciscan Sisters of Mary) moved into the church. They focused on providing healthcare to the poor and built several hospitals. The sisters would eventually go on to establish the non-profit SSM Health Care Systems. A plaque near the entrance of the church commemorates the sisters and their roots at Saint Mary of Victories.
During the twentieth century the ethnic composition of the church changed as German immigrants and their descendants gradually moved away. Several Syrian families also joined the church sometime around 1917. During the 1950s, Interstate 55 was built directly in front of the church, separating it from the rest of the neighborhood. Most of the church complex was demolished as well, except for the school building and the church itself. In 1957 a large number of Hungarian immigrants came to St. Louis as a result of the 1956 Hungarian Revolution. Many of them joined Saint Mary of Victories, which was then turned over to become a Hungarian national church. In 1980 the church was added to the National Register of Historic Places. Today Saint Mary of Victories remains in operation, although its dwindling congregation has resulted in it being re-designated as a chapel. Mass services are regularly held in English, Latin, and Hungarian.
Sources
Brinker, Jennifer. "Historic Downtown treasure is a feast for the senses." St. Louis Review. March 17, 2016. Accessed May 8, 2017. https://www.stlouisreview.com/article/2016-03-17/historic-downtown.
"Early History." Saint Mary of Victories Catholic Church. Accessed May 8, 2017. https://www.smov.info/index.php?option=com_content&view=article&id=346&Itemid=686.
Naffziger, Chris. "Saving Grace: St. Mary of Victories, St. Louis' Second Oldest Church." St. Louis. March 16, 2016. Accessed May 8, 2017. https://www.stlmag.com/arts/history/saving-grace-st-mary-of-victories-st-louis-second-oldest-church/.
Picture 1: http://photos1.blogger.com/blogger/501/687/1600/Saint%20Mary%20of%20Victories%20Chapel%2C%20Saint%20Louis%2C%20Missouri%20-%20exterior.jpg
Picture 2: http://mediad.publicbroadcasting.net/p/kwmu/files/styles/x_large/public/201412/St._Mary_2.jpg
Picture 3: http://www.smov.info/images/IMG_9788.jpg
Additional Information