Fort De La Boulaye
Introduction
In the present state of Louisiana, Fort De La Boulaye (also known as Fort Mississippi) was the first French outpost. It was built in February 1700 in order to counter aggression shown by Spain and England in the region. Pierre le Moyne, Sieur d'Iberville, landed a group of soldiers along the bank of the Mississippi River where his men built a twenty eight square foot blockhouse. This blockhouse was equipped with six cannons to provide protection. Pierre le Moyne left an eighteen man stronghold at Fort De La Boulaye under the command of his brother Bienville. A lot of information did not survive concerning the experiences of the men situated at Fort De La Boulaye; however historians do know that by the year 1707, Native American threats forced the garrison to abandon the fort. One individual remained at the fort, Louis Juchereau de St. Denis. He had the ability to communicate with the Native Americans and was on friendly terms with them.
Images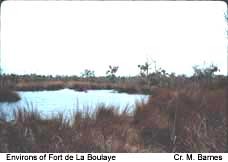 Backstory and Context
A State historical marker has been erected on the site, but access is difficult.