Lilly Bridge, Bluestone Lake
Introduction
Lilly Bridge was completed in 1950 by the Virginia Bridge Company of Roanoke, Virginia near this location. The current bridge was constructed in 2015 and like its predecessor, it crosses the Bluestone River and connects many small communities in Southern West Virginia. The 1950 ridge was a five-span cantilevered thru-truss is supported by concrete abutments and 4 concrete piers. During construction of the original bridge in 1950, two trusses fell resulting in several workers being killed and others injured. The bridge is named in honor of Lilly, a small village formed in the late 18th century. Residents who lived in the area of the village of Lilly were required to leave their homes prior to the construction of the Bluestone Dam in the 1940s.
Images
This bridge was built in 2015 and replaced a previous bridge built in 1950. The new bridge shares the same name "Lilly Bridge" in honor of the historic village of Lilly.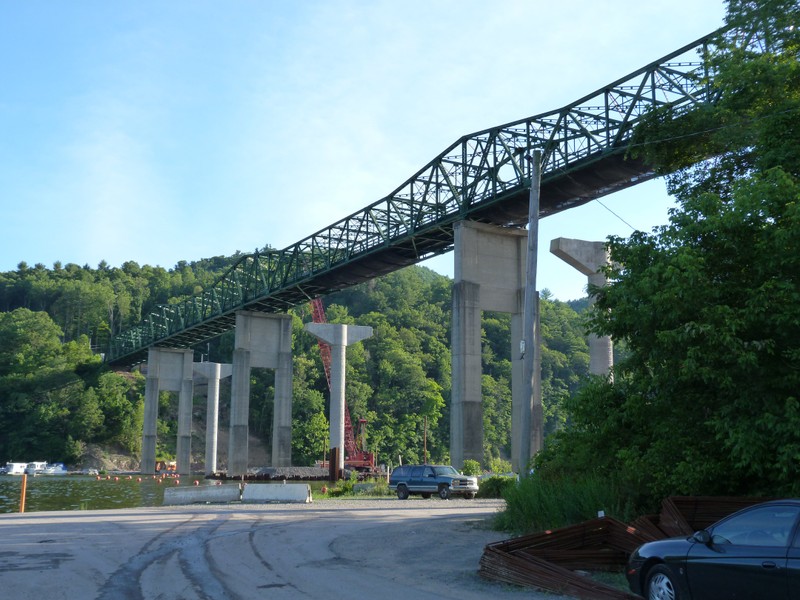 An image of bridge from the lake below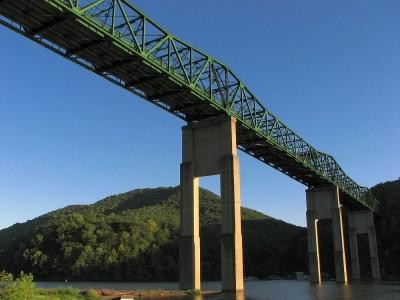 Backstory and Context
The Lilly Bridge, also known as the Bluestone Lake Bridge, is located in Summers County. The bridge was completed in the 1950 by a bridge building company out of Virginia. The total length of the bridge measured out to be around 1,100 feet. The bridge's name is a reference to the town of Lilly, a small community that was formed in the late 18th century. Some residents a dam accident along with the previous bridges. Most of the bridge was removed during the demolition of the 1950 bridge and construction of the current bridge in 2015. There is a small marker that offers a short history of the old Lilly Bridge, which was one of
seven remaining cantilever truss bridges in the state when it was destroyed in 2015.
Sources
"Lilly Bridge." Bridgehunter.com. Web. 03 May 2017.
"Lilly Bridge." Lilly Bridge (Bluestone Lake Bridge) - HistoricBridges.org. Historic Bridges, Web. 03 May 2017.

Additional Information