Big Beaver by Norman Tait, 1982
Introduction
Created by Norman Tait in 1982, this totem pole is located right outside the Field Museum, in Chicago. It stands 55 feet tall and was carved out of cedar. Tait wanted this structure to be a representation of his ancestry and how the Tshimshian civilization came to symbolically embrace the beaver. Because they were carved out of cedar, which decays, there are no original totem poles from the Tsimshian group.
Images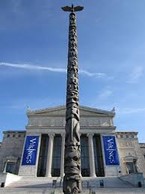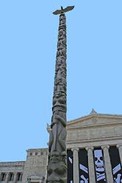 Backstory and Context
Norman Tait's ancestors were part of the Nisga's Tsimshain group. They are Native Americans whose population currently totals 10,000. Tait was from British Columbia, in a village called Kincolith. Most reside in either Alaska or British Columbia. They are avid hunters and fishers, and respected as powerful warriors. There are a total of fourteen bands within the Tsimshain society. Each of these bands, or tribes, have their own independent leadership.
The story behind Tait's totem pole came from an Tsimshiam legend. It was said that a group of five Tsimshiam men gathered together to go on a hunter, which was typical of their people. They were hunting for beaver, and were successful, although two managed to except. They had brought along a younger brother, who was still too young to hunt on her is own. He noticed the two beavers escaping and offered to help them home. Once he arrived at the beaver's home, he watched as the beavers took off disguises. To his surprise, he discovered the beavers were actually humans. He went back to his brothers and told him the news. Since then, the family never hunted beavers again and adopted the beaver as their family symbol.
Tait The totem pole was one of the projects done to celebrate the opening of the "Maritime Peoples of the Arctic and Northwest Coast,'' an exhibition at the Field Museum. Tait used a tree which was over five hundred years old to create the totem pole out of. The original tree had been donated to Tait by the Council of Forest Industries of British Columbia. The totem has been coated with zinc and linseed oil for protection.
Sources
Krance, Magda. INDIAN-ESKIMO LIFE IN CHICAGO EXHIBIT. http://www.nytimes.com/1982/05/20/garden/indian-eskimo-life-in-chicago-exhibit.html.

Museum Campus: Field Museum Lawn. http://chicago-outdoor-sculptures.blogspot.com/2007/06/big-beaver.html.

Tsimshian. http://www.newworldencyclopedia.org/entry/Tsimshian.

Story of Big Beaver Totem Pole - Field Museum, Chicago, IL - Outside Wooden Display Carvings on Waymarking.com. http://www.waymarking.com/waymarks/WM45MM_Story_of_Big_Beaver_Totem_Pole_Field_Museum_Chicago_IL.


Additional Information