Veterans Memorial Bridge
Introduction
Located on US Route 22 over the Ohio River connecting Weirton, West Virginia to the small town of Steubenville,Ohio, this cable-stayed bridge is definitely something that travelers from around the country will come to cross. Known as the Veteran's Memorial Bridge, it also carries the name; the New Steubenville Bridge. This bridge replaced the Fort Steuben Bridge that was built in 1928.
Images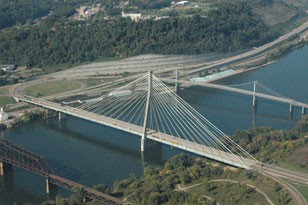 View from Standing on Road Bridge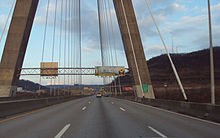 Backstory and Context
First, the Veterans Memorial Bridge one of the few cable- stayed bridges in the state. In fact, many people do get this bridge confused with the East Huntington in Huntington, West Virginia. The bridge was under construction for nearly three decades before it was completed.Estimated cost of the bridge came out around seventy million dollars due to the large amounts of steel and cable that the bridge uses.
Michael Baker was the designer of the bridge and began construction in the middle of 1979. Once the historic Federal Land Office was relocated in 1982, the five contracts remaining were awarded in the mid-'80s to Mashuda Corporation, H.J. Schneider Construction, Inc., National Engineering & Contracting, Inc., Danis Industries Corporation and S.J. Groves & Sons.
Later in time, around the late ' 90s, the bridge was upgraded to a four lane bridge. The upgrade also made US Highway 22 undergo some construction for it to be upgraded as well. Once the last construction was completed it made the Veterans Memorial Bridge the most expensive bride in West Virginia.



Sources
" Veterans Memorial (Weirton-Steubenville)." Veterans Memorial (Weirton-Steubenville). West Virginia Department of Transportation, n.d. Web.
"Veterans Memorial Bridge in Summers County WV." Veterans Memorial Bridge (in Summers County, WV). WV Home Town Locator, n.d. Web.
"Veterans Memorial Bridge." MacArthur. 2009.. Web


Additional Information