Schmulbach Brewing Company (Nail City Brewery)
Introduction
German immigrant, Henry Schmulbach became owner of Nail City Brewing Company, a small local brewery, in 1882. Under Schmulbach the newly named Schmulbach Brewing Company expanded and became one of the largest breweries in all of West Virginia. With his newly obtained money Schmulbach gave back to the community to help the citizens of Wheeling.
Images
A Schmulbach Brewery bottle. Photo credit: https://www.pinterest.com/pin/443112050820098925/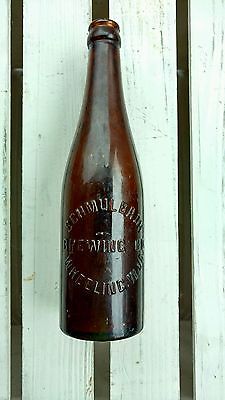 Schmulbach's logo above the entrance to his brewery. Photo credit: http://abandonedonline.net/locations/industry/schmulbach-brewery/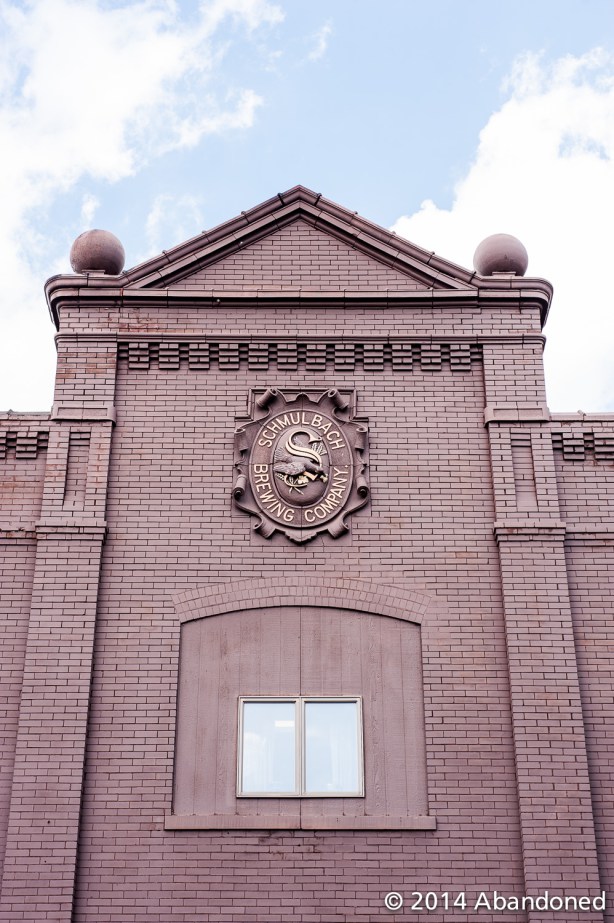 A picture looking towards Schmulbach's brewery. Photo credit: http://abandonedonline.net/locations/industry/schmulbach-brewery/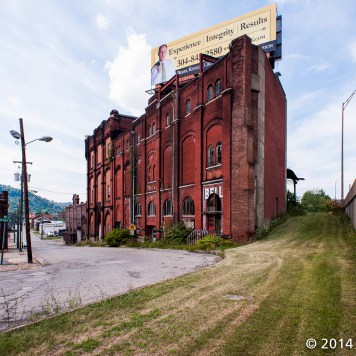 A photograph of Henry Schmulbach. Photo credit: https://www.wvencyclopedia.org/articles/194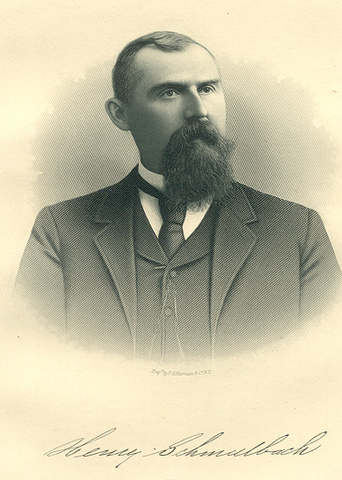 Backstory and Context
Born in Germany in 1844, Henry Schmulbach moved to Wheeling, WV with his family as a child. At a young age Schmulbach began working with his uncle as a wholesale grocer. At some point he switched to the wholesale liquor trade and became a respected businessman and community leader throughout the northern panhandle. In 1882 Schmulbach became the majority owner of the Nail City Brewing Company.

Frank Zeigler founded the Nail City Brewing Company in 1861. By 1873 Zeigler relinquished control to nine stock owners who then were in charge of making the brewery's business decisions. Major stockholders remained in control until 1882 when Schmulbach became majority owner of the company. Upon purchasing Nail City Brewery he renamed the company the Schmulbach Brewing Company. Despite renaming the company Schmulbach decided to bottle under the new Schmulbach brand as well as under the old Nail City name--this was done for both brand recognition and to hold on to Nail City Brewery's tradition.

Under Schmulbach's direction the brewery flourished. At its peak in the early 1880s the Nail City Brewery sold up to 8,000 barrels of liquor per year. By 1883 Schmulbach implemented the use of newer, modern equipment; this investment in industrializing his brewery paid off as Schmulbach immediately began to sell up to 50,000 barrels per year. With the increased profit that came along with this increase in sales Schmulbach was able to build his own bottling plant to self-bottle his products, which ultimately led to the company decreasing spending. Due to the technological advancements implemented in the industry the product became much more polished. This led to a much greater demand for liquor in West Virginia's northern panhandle, as well as the bordering areas of Ohio and Pennsylvania. Because of this increased demand Schmulbach's output raised to 200,000 barrels per year in 1890.

Other than operating his brewery Henry Schmulbach also followed other business ventures to benefit the community. Schmulbach opened the Wheeling area's largest ice plant, which he used during the brewing process. Schmulbach's rival brewer Anton Reymann created a beer garden in what is today Wheeling Park. Purely for competition Schmulbach built his own beer garden in Mozart Park--he even built an incline that could transport up to 1,000 people per hour from 44th Street to his Mozart beer garden. In 1904 Schmulbach began construction on West Virginia's first ever skyscraper, the Schmulbach Building. To this day the twelve story building is still the tallest building in Wheeling. Schmulbach also acted as president of the Wheeling Bridge company, streetcar companies, telephone companies, and the German Bank. Along with these positions he also owned a steamboat fleet, and stocks in various local nail and steel businesses.

Schmulbach's remained largely successful until his retirement in 1913. Following retiring from his leadership positions Schmulbach lived between his home in Wheeling on Chapline Street and his mansion at Roney's Point. Once Yost's Law was passed in 1914 alcohol became prohibited in West Virginia; this led to the Schmulbach Brewing Company falling apart. Schmulbach spent the rest of his retirement living in seclusion until his death in 1915.
Sources
http://abandonedonline.net/locations/industry/schmulbach-brewery/
https://www.wvencyclopedia.org/articles/194
http://www.ohiocountylibrary.org/wheeling-history/5452
http://www.ohiocountylibrary.org/wheeling-history/3024

Additional Information