Historical Marker: Governor Landon's Acceptance
Introduction
This historical marker indicates the spot on which then Governor Alf Landon (in office from 1933-1937) accepted the Republican Party's nomination for the presidency on July 23, 1936. Unfortunately for him and the party, not only did he lose to the incumbent Franklin D. Roosevelt, he lost by a whopping 523 electoral votes to 8. Landon only won Maine and Vermont. However, despite this loss, Landon remained a strong figure in the party in the coming years, helping to strengthen the party for the 1940 presidential election. He did not run for office again and returned to the private sector, where he had previously made his millionaire fortune in the oil industry.
Images
The marker on the spot where Governor Landon accepted the nomination.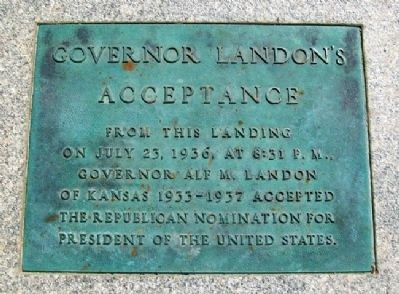 Backstory and Context
Landon was born in Pennsylvania, and his family later moved to Ohio and then to Kansas. He attended the University of Kansas where he studied law. After graduation in 1908, he became a bookkeeper and eventually saved enough money to start investing in oil ventures. He founded his own company in 1912.
Sources
"Alf Landon, G.O.P. Stand-Bearer, Dies at 100." The New York Times. October 13, 1987. http://www.nytimes.com/learning/general/onthisday/bday/0909.html.

"Governor Landon's Acceptance." The Historical Marker Database. Accessed May 2, 2017. http://www.hmdb.org/marker.asp?marker=46966.

Photo: William Fischer, via the Historical Marker Database