The Honorable Vern Riffe, Historical Marker
Introduction
Vern Riffe was one of the most influential politicians in Ohio history, serving as a House member for thirty-six years and Speaker of the House for twenty of those years. Riffe was committed to improving the lives of Southern Ohioans and secured funding that led to the establishment of Shawnee State University and funding that completed Ohio Route 32.
Images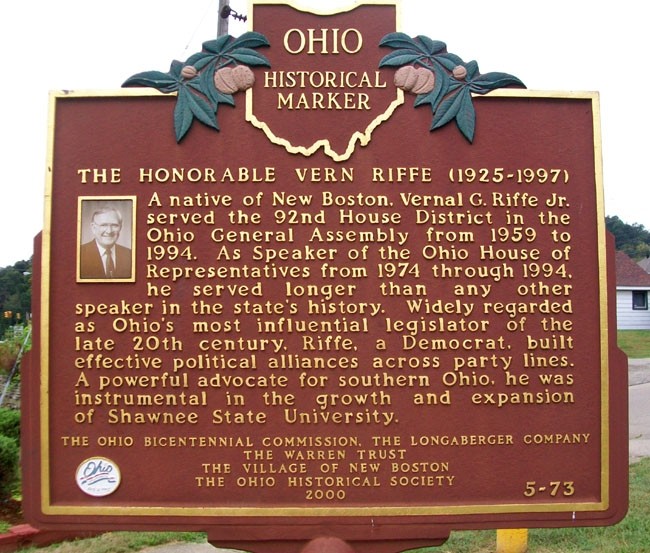 Historical marker, on Galia Street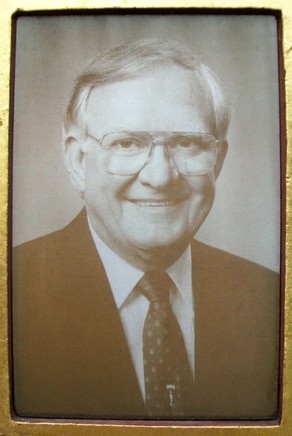 Backstory and Context
Vern Riffe was born in 1925 in New Boston, Ohio. He attended college but did not graduate. He lived in Ohio for his whole life and stated that his decision to enter public service was motivated by a desire to improve the lives of Appalachian people. Riffe was elected to the Ohio House of Representatives in 1958, serving a total of 36 years (18 consecutive terms) as a representative for the 92nd House District. Known for his political savvy, Riffe was chosen to be Speaker of the House and served in that role for the next twenty years. The longest-serving Speaker in Ohio history, Riffe was also a leading figure in the state Democratic Party who had a reputation for his capacity to form working relationships with his Republican colleagues.

Riffe supported legislation that set aside millions of dollars to establish Shawnee State University in Portsmouth. The University is sometimes dubbed "The Vern Riffe State University" owing to the centrality of his role. Riffe also secured legislation that brought funding for the creation of Ohio Route 32 which begins in Athens and goes through the western part of the state.

As a result of his dominant political presence throughout Ohio, he has received many honors, including the Vernal Riffe Chair Department at Ohio State University. He also has had several buildings named in his honor such as the Vern Riffe Center for Government and the Arts at OSU. The home of the Ohio governor's office in Columbus is also named in his honor as well as the Vern Riffe Center for the Arts at Shawnee State University.
Toward the end of his career, his shining reputation was slightly tinged when he was charged with failing to report Speaker's fees and interest income from an inheritance. He eventually pled guilty for not reporting the investment income, claiming it was an unintentional oversight.

Riffe passed away on July 31, 1997.


Sources
Vernal G. Riffe Jr.. Ohio History Central. Accessed April 30, 2017. http://www.ohiohistorycentral.org/w/Vernal_G._Riffe_Jr..

The Honorable Vern Riffe. Accessed April 30, 2017. https://www.hmdb.org/marker.asp?Marker=59245.


Additional Information