Columbus Tower
Introduction
Columbus Tower, also known as the Sentinel Building, was constructed in 1907, following the Great Earthquake of 1906. Despite the 1907 finish, building work had begun before the earthquake, but extensive damage was done to the building site, slowly down construction considerably. The top floor initially housed the headquarters of the notorious Abe Ruef, a local political figure at the time. Today, much of the building is occupied by the film studio American Zoetrope, with the ground floor being used as a cafe.
Images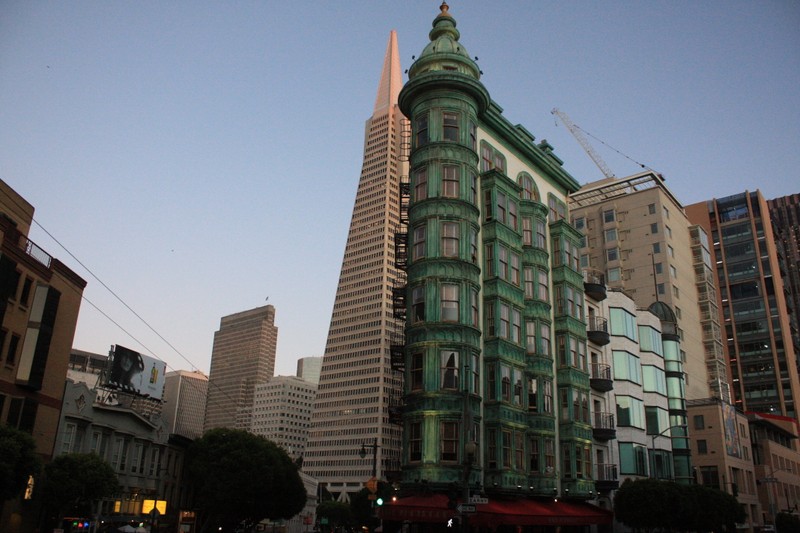 Backstory and Context
In 1949 the basement of the building was used as a nighclub known as hungry i. The 83-seat club, owned and operated by Eric Nord, became very influential in the stand-up comedy scene after he sold the basement to Enrico Danducci in 1951. Danducci operated it as a venue for folk music for a time before hiring comedians in 1953. It became so succesful that queues would form around the block.
By 1958 the state of the building had deteriorated and demolision was considered. Instead, it was purchased by Dutch investor Rob Moor and his wife Nella, who renovated it and renamed it to Columbus Tower. They sold the building only a year and a half later to American folk group Kingston Trio. The group used the building as their headquarters and converted the basement into a recording studio.
In the 1970s the Kingston Trio sold the building to movie director Francis Ford Coppola, who refurbished the place and reverted its name back to the Sentinel Building. Coppola founded American Zoetrope with George Lucas and they have operated in the building since 1972. Other tenants include media companies NPR and PBS, as well as sound studios for Pixar and Skywalker Sound.
Sources
Miller, Johnny. Francis Ford Coppola saves his Sentinel Building. SF Gate. December 27, 2009. Accessed April 30, 2017. http://www.sfgate.com/bayarea/article/Francis-Ford-Coppola-saves-his-Sentinel-Building-3277464.php.
San Francisco Landmark #33 Sentinel Building. Noe Hill. Accessed April 30, 2017. http://noehill.com/sf/landmarks/sf033.asp.
Columbus Tower. Lonely Planet. Accessed April 30, 2017. https://www.lonelyplanet.com/usa/san-francisco/attractions/columnbus-tower/a/poi-sig/383973/361858.