Holy Virgin Cathedral, San Francisco
Introduction
The Holy Virgin Cathedral, also known as Joy of All Who Sorrow, is a Russian Orthodox cathedral in the Richmond District of San Francisco. It is the largest of the six cathedrals of the Russian Orthodox Church Outside Russia, a church which has over 400 parishes worldwide. Groundbreaking took place in June 1961 and construction was completed in 1965 before being consecrated in January 1977. Saint John of Shanghai and San Francisco, who died in 1966, is buried within the cathedral.
Images
Holy Virgin Cathedral was built in 1965 and is the largest of the six Russian Orthodox cathedrals built outside of Russia.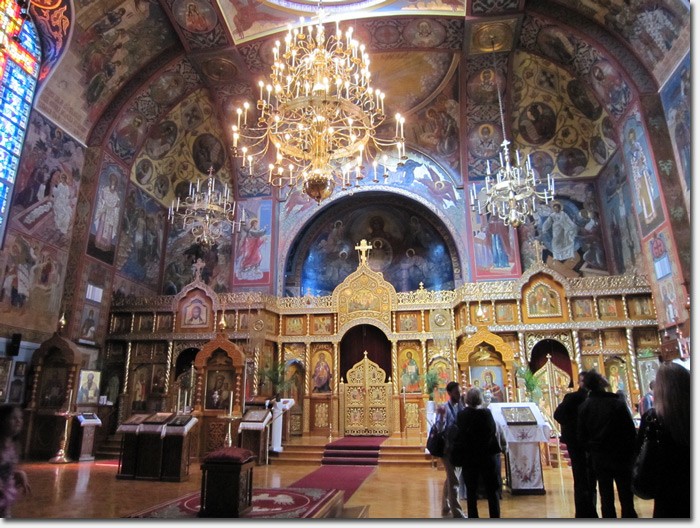 The cathedral's architecture, with its onion domes, makes it a unique landmark in the city.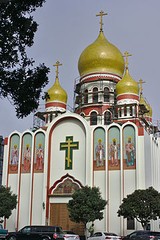 Backstory and Context
The inside of the Cathedral is truly spectacular and is extravagant compared to its quaint exterior. All visitors are welcome to come to one of the services which take place daily at 8am and 6pm. Inside you will also find the burial site of St John of Shanghai and San Francisco. The church still receives letters addressed to St. John to this day which they place by his remains.

St. John was a prominent ascetic in the Eastern Orthodox Church who was active during the middle of the 1900s. He was a spiritual leader who gained a reputation as a miracle maker. Many of his followers attributed great powers to him such as prophecy, clairvoyance, and healing. He is sometimes referred to as St. John the Wonderworker.

The shiny golden parapets that adorn the top of the church are based upon Indian design, similar to that of the Taj Mahal. The Russian design is slightly altered however as the heavy Russian weather means they must be taller and narrower to avoid the accumulation of snow. Despite how they look, only 12% of the parapets are made of reflective gold as this is the perfect number for creating the effect.

Sources
"About Orthodoxy." WA Diocese. Accessed April 30, 2017. http://www.wadiocese.com/about_orthodoxy.html.

B., Sarah. "Photos inside the Holy Virgin Russian Orthodox Cathedral." Richmond District Blog. May 24, 2011. Accessed April 30, 2017. http://richmondsfblog.com/2011/05/24/photos-inside-the-holy-virgin-russian-orthodox-cathedral.

"History." SF Sobor. Accessed April 30, 2017. http://www.sfsobor.com/index.php?option=com_content&view=article&id=90&Itemid=54&lang=en.

Additional Information