Final Stop John Brown Freedom Trail 1859 in Iowa
Introduction
The Underground Railroad in Iowa John Brown Freedom Trail 1859 - Stop Number Sixteen Iowa Freedom Trail Project
Images
John Brown Railroad Bridge over the Mississippi River at Davenport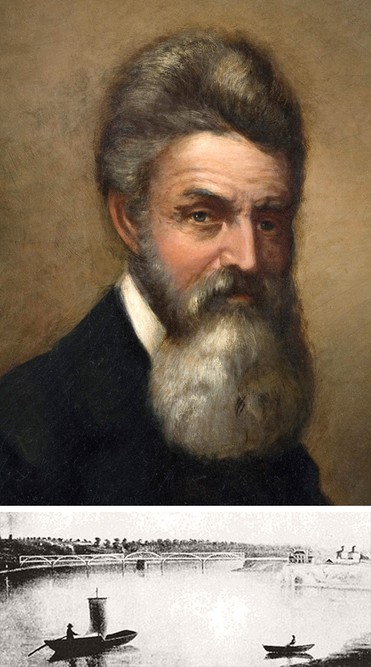 Backstory and Context
The Underground Railroad in Iowa
John Brown Freedom Trail 1859 - Stop Number Sixteen: Davenport, Iowa
Iowa Freedom Trail Project

On the afternoon of March 10, 1859, John Brown (see photo) and his entourage passed through Davenport in the empty box car they had boarded that morning. They crossed a five year old railroad bridge (see photo) on a train bound for Chicago.

Crossing the Mississippi River at Davenport was the final stop on Brown's Iowa Freedom Trail. Within two days, the group would pass through Chicago and Detroit, where the escaped slaves would take a ferry to freedom in Windsor, Ontario, Canada. Only seven months later, Brown and his men would attempt to seize the Federal Armory and Arsenal at Harpers Ferry, Virginia (now West Virginia). Nine months later, Brown would be dead - hung for treason.
A historic marker is located along the Sea Wall at Davenport and marks the end of the Iowa Freedom Trail.
Sources
Iowa and the Underground Railroad
https://iowaculture.gov/sites/default/files/History%20-%20Education%20-%20Lifelong%20Learning%20-%20Iowa%20Underground%20Railroad%20(PDF).pdf
Additional Information