Yeasley House
Introduction
This limestone home built in 1790 was constructed for the Yeasley family. The home is older than the majority of brick structures in the area. Revolutionary War veteran Michael Yeasley and his family were German immigrants and a part of the original group of settlers in Mechlenburg, what is now Shepherdstown. Yeasley was a dedicated member of the German Reformed Church and organized the purchase of church bells for the Christ Reformed United Church of Christ.
Images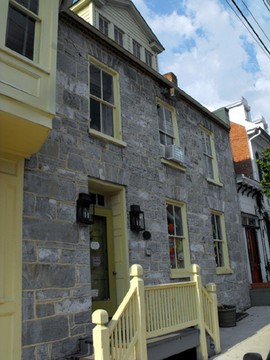 Backstory and Context
  A revolutionary war veteran and German immigrant, Michael Yeasley was one of the founding members of Shepherdstown. Yeasley and his wife Mott Llana Yeasley were some of the first German immigrants who settled along the Potomac River. The group laid out plans for a town they called Mechlenburg. This name was in use until 1960 when it was changed to the current name of Shepherdstown after Thomas Shepherd, the owner of a gristmill. 
  Yeasley was an involved community member and businessman. He was a weaver and marketed his products out of his home. Yeasley and his wife would raise their seven daughters in this home. The home, named after their family, was built in 1790. It is constructed from limestone and predates the majority of the town's brick buildings. This was one of many properties owned by Yeasley and part of the home was the location of his mercantile store. 
  The Yeasley family attended Christ Reformed United Church of Christ a popular German Reformed Church. The church building on East German St. is still standing and opened in 1839, but the church itself was formed much earlier. In 1795, Yeasley began a collection to fund the purchase of bells for the church. He believed that the bells would help encourage more regular and faithful church attendance. The collection included money, jewelry, belt buckles, and other treasured items donated by the congregation. The bells were purchased in Germany and shipped to Baltimore. From there, they were brought to Shepherdstown on a wagon pulled by oxen. An inscription on the largest bell reads "Rouen" and "1732." This has led historians to believe the bells were made in France and sold from Germany many years later. These bells were so significant to Yeasley, that he requested to be buried at the foot of the church's bell tower. To this day the bells are in use by the church.
Sources
Milbourne, Toni. First Annual Tour of Historic Churches draws crowd. The Journal. December 31, 2018. Accessed May 01, 2019. https://www.journal-news.net/first-annual-tour-of-historic-churches-draws-crowd/article_22fc6d2c-cfe7-526e-b24b-4488c8650155.html.
Yeasley House. Historic Shepherdstown & Museum. Accessed May 01, 2019. http://historicshepherdstown.com/2015/11/16-yeasley-house/.
A Biographical Record of Fairfield County, Ohio, Illustrated. S. J. Clarke Publishing Company, 1902.
Shackelford, Suzanne. Christ Reformed Church, UCC: Then and Now. Shepherdstown Good News Paper. May 01, 2015. Accessed May 01, 2019. http://www.shepherdstowngoodnewspaper.org/wp-content/uploads/2015/06/153282_GNP_Summer15_sm.pdf.
Shepherdstown. West Virginia Encyclopedia. September 22, 2015. Accessed May 01, 2019. https://www.wvencyclopedia.org/articles/2280.
Additional Information